Ashland, Oregon is a city filled with natural beauty, a lively arts and culture scene, and diverse culinary traditions. Most famous for its farm to table cuisine and wines, the city has several annual food festivals like the Ashland Culinary Festival.


Ashland also has a wide array of restaurants for you to choose from:
Experience incredible fine dining and contemporary cuisine at Alchemy Restaurant and Bar.
Revel in Hearsay Restaurant Lounge and Garden's jazzy speakeasy vibe. It's the perfect place to grab a drink or spend a romantic dinner.
Larks Home Kitchen Cuisine offers delicious farm to table dishes with a sophisticated twist.
You'll be spoilt for choice at Greenleaf Restaurant with its extensive menu including an array of vegetarian, vegan, and gluten-free options.
Plancha puts its own modern twist on classic Mexican fare and provides a selection of 50 vintage tequilas.
Hither Coffee and Goods reflects Oregon's food culture and is all about farm-fresh cuisine. It also specializes in natural and biodynamic wine.
From award-winning chef Josh Dorcak, MAS Cascadian Cuisine is a multicourse dining experience of six to ten dishes. Its offering of Southern Oregon cuisines focuses on foraged and wildcrafted local delicacies.
Find in-house brews, craft beers, wood-fired pizzas, and other bar favorites at Standing Stone Brewery.
Taj Indian Cuisine brings Indian flavors to the heart of Ashland with their lunch and Monday night buffets.
The Breadboard Restaurant is the best breakfast and brunch spot in town. It is known for its homey vibe and tasty dishes made from scratch daily.
Amuse Restaurant's comfortable atmosphere complements their menu of modern French and Northwest food made with fresh seasonal and organic ingredients.
Read more about the best restaurants in Ashland, OR
Living in Ashland is like no other. Surrounded by stunning natural beauty and boasting a strong arts and culture tradition, this mountain city's combination of serene sophistication and active lifestyle keeps visitors coming back for more year after year
Ready to live in the Mountain City? Find your new home in Ashland, OR:

What puts all the different facets of the city together is its culinary tradition. Ashland is also wine country, with picturesque vineyards and wineries producing a wide array of grape varieties and unforgettable wines. And with farm-fresh ingredients available any time of the year, the city has some of the best farms to table cuisine in all of Oregon.


There are several annual food festivals, the largest of which is Ashland Culinary Festival. Throughout the year, visitors and locals enjoy an amazing array of restaurants serving a wide variety of cuisines and dining experiences. From cozy cafés and bucolic wine tasting rooms to award-winning fine dining destinations, you'll find endless options for a gastronomic adventure.


Best places to eat in Ashland, Oregon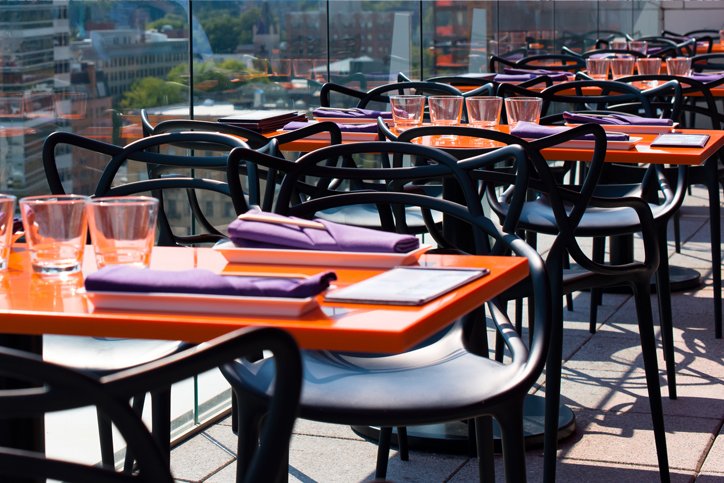 Best places to eat in Ashland, Oregon
Here are 10 of the best Ashland restaurants you simply shouldn't miss.
Alchemy Restaurant and Bar
35 S 2nd Street
(541) 488-1115
View this post on Instagram
This Ashland staple has long been the go-to fine dining place in the city. Featuring contemporary cuisine, Alchemy offers a fresh, modern take on classic bistro and dinner fare, with such menu items as crispy duck salad with marinated nectarines, seared Foie Gras, pan seared copper river salmon, and more. The bar serves the finest selection of whiskeys and craft cocktails, and the restaurant's impressive wine cellar is personally curated by owner Drew Gibbs, who is also a certified sommelier.
Hearsay Restaurant Lounge and Garden
40 S. First Street`
(541) 625-0505
View this post on Instagram
Hearsay's location on the lower level of the historic Old Pink Church is the perfect backdrop for its jazzy speakeasy vibe. Diners here are treated to a variety of experiences. The lounge is perfect for a relaxing evening over a round or two of drinks. The outdoor garden is a great choice for a romantic date or an unhurried Sunday brunch. The expansive main dining room has an undeniable 1930s ambience and is dominated by a grand piano where music from that era is played. The distinctive design notwithstanding, Hearsay's modern take on American cuisine and cocktails is reason enough to make this amazing restaurant one of the best places to eat in Ashland.
Larks Home Kitchen Cuisine
212 E. Main Street
(541) 488-5558
View this post on Instagram
Larks is one of the first restaurants in Ashland to offer farm to table menu. It's everyone's go-to place for any kind of celebration, or simply for a quiet dinner when you don't have the time to make one. Serving comfort food made with ingredients from around Oregon, Larks supports local farms, creameries, and wineries while never failing to give guests a flavorful culinary experience. The meatloaf, rabbit cacciatore, and other home cooking favorites are prepared with just the right amount of fancy so they don't lose their down home flavors.
Greenleaf Restaurant
49 N. Main Street
(541) 482-2808
View this post on Instagram
Serving happy customers in its Ashland Plaza location since 1985, Greenleaf is where you go when you can't decide on what to have for lunch or dinner. It has around three times the number of items on their menu than any other restaurant in Ashland – certainly more than enough choices to cater to every taste or mood. Greenleaf is also a great source for vegetarian, vegan, and gluten-free food. Drop by with the family before or after a stroll around nearby Lithia Park, or order take out and bring the food with you for a picnic at the park.
Hither Coffee and Goods
376 E. Main Street
(541) 625-4090
Claiming to be the only shop in Rogue Valley "specializing in natural and biodynamic wine", this rather new kid on the block is all about farm fresh goodness. Oregon's food culture is in the spotlight here, with menu items like herbed eggs, biscuit sandwich, and open faced grilled cheese sandwich topped with fried egg and garlic aioli. Coffee is made from newly harvested beans. Hither is a wonderful place to start your day right or end it with a relaxing meal.
MAS Cascadian Cuisine
141 Will Dodge Way
(541) 581-0090
View this post on Instagram
What started as a well-loved pop-up by award winning chef Josh Dorcak is now a cozy brick and mortar space providing unforgettable dining experiences. Serving multicourse dining menus of six to ten dishes, MAS specializes in Southern Oregon cuisine. This means only the freshest ingredients are used, including some particularly unusual ones like maple blossoms, acorn, and stinging nettle leaf. It's all in keeping with the restaurant's "hyper focus on foraged and wildcrafted local delicacies."
Standing Stone Brewery
101 Oak Street
(541) 482-2448
View this post on Instagram
Serving Ashland since 1996, this family-owned place has a great lineup of in-house brews and craft beers, some of which you can sample as soon as you enter. Their wood fired pizzas are the perfect complement, but you must also try their tempura battered Portobello strips, fish tacos, nachos, and other delectable bar chows. The interior is far more spacious than it looks from the outside, and there's a balcony where you can enjoy a great view of the mountains.
Taj Indian Cuisine
31 Water Street
(541) 488-5900
Experience the richness of Indian cuisine right at the heart of Ashland. Have your fill of curries, masala, biryani, and other South Asian culinary favorites on Taj's ever popular lunch and Monday night buffets. In addition to the authentic Indian flavors, you're assured of undeniably fresh and organic ingredients. If you're vegan or vegetarian, you'll find plenty of excellent choices to spice up your eating experience.
The Breadboard Restaurant
744 N. Main Street
(541) 488-0295
Now in its 35th year, Breadboard serves some of the best food in Ashland. Open only for breakfast and lunch every day, you can expect a crowd waiting before the door opens, but it's typically just a short wait. This homey restaurant can seat more than 60, and there's an outdoor seating area where you can enjoy lovely views of Grizzly Peak. Everything on the menu is made fresh from scratch daily. The entire family will love the Egg and Vegan Benedicts, the coconut strawberry pancakes, and The Ashland Scramble – perfectly made with eggs or tofu and stuffed with bell peppers, onions, mushrooms, tomatoes, and other healthy goodies.
Amuse Restaurant
15 North 1st Street
(541) 488-9000
Amuse Restaurant brings French cuisine practically next door, and combines casual and fine dining seamlessly. Your comfort is paramount than any dress code, and you can bring the kids, too. Fresh seasonal and organic ingredients are used to create classic and modern French and Northwest food, perfectly paired with a fine selection of Oregon and California wines. Must-tries include the duck leg confit, the gnocchi, or their very own version of the grilled ribeye.
Excite more than your taste buds in Ashland
Eating at the top restaurants in Ashland is not only an adventure all its own. These dining destinations are also fueling stations where you can get all the energy you need to experience the myriad activities in the city.
Ashland's restaurant scene gets truly busy from February to late October when the Oregon Shakespeare Festival is staged. Founded in 1935, this major occasion stages up to 11 plays with around 750 to 850 performances every year.
The festival has a home of its own – a four-acre campus beside Lithia Park and Ashland Plaza. The campus houses the three theaters where the plays are staged, the Allen Elizabeth Theatre, the Angus Bowmer Theatre, and the Thomas Theatre. Before the evening performances, dance, music, circus, and other acts are staged at The Bricks, a central open court that puts the campus's architectural details together.
Other cultural attractions
In addition to the Oregon Shakespeare Festival, Ashland's cultural scene is a rich tapestry of performing arts, museums, galleries, and music. Catch a performance of the Dancing People Company, the only professional modern dance group in the region. Have a visual arts feast at the Schneider Museum in Southern Oregon University, or at Ashland Art Center. Join the Ashland Gallery Association's First Friday Art Walks. Enjoy live music of any genre in one of the restaurants and bars in the city, or at music venues like Live at the Armory and the Butler Bandshell.
See What Ashland, Oregon Has to Offer
There's always something to do in Ashland's great outdoors no matter the season. If you think you have what it takes, join the city's many endurance events, including the Mt. Ashland Hill Climb Run, the Ashland Mountain Challenge, and Spring Thaw.
Ashland is home to miles of hiking and biking trails for all skill levels, such as the Ashland Watershed, the Oredson-Todd Woods, and Lithia Park. Serious cyclists will love the challenge of the Bear Creek Greenway and the Cascade Siskiyou Scenic Bikeway.
If water adventures are your thing, go kayaking or white water rafting on the Upper Klamith or Rouge Rivers. Go on a short drive to the Mountain Lakes for a quiet day of fishing, or hike and picnic at Grouse Gap Shelter.
In the winter, Mt. Ashland Ski Area is a skier's paradise with 23 trails, 200 acres of skiable areas, and snowboard parks. Winter activities here include Nordic and alpine skiing, snowshoeing, snowboarding, and more.

Shopping in Ashland is a unique experience. You won't find any giant retail chain or big box store here — just charming shops and boutiques selling locally made one-of-a-kind products. There are specialty stores selling cookware, home décor, clothing, jewelry, outdoor gear, and more. Galleries feature paintings, sculpture, and pottery from local and international artists. You'll also find fresh produce, artisan breads and chocolates, local delicacies, and other gourmet products.
Scour the shops at historic East Main Street, and have a bite at one of the fantastic restaurants in the area. Make sure to check out Lithia Artisans Market, an outdoor artisans market that runs from March to October. And find the freshest farm to market products and homemade goodies at the Rogue Valley Growers Market.
Check out these blog posts to learn more about living in Ashland, Oregon.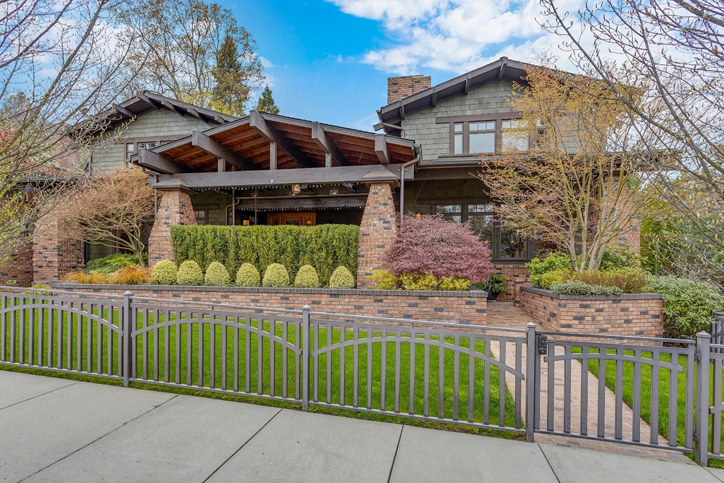 Find the perfect home in Ashland, OR

Live in Ashland and enjoy everything this gorgeous place has to offer every day of the year. Call us at Ashland Home Real Estate to find your dream home. As one of the top real estate teams in the Rogue Valley region, we know how to navigate this market in any condition and will do what it takes to close a transaction you'll be very happy with.
Founded in 1980, Ashland Home Real Estate are experts in Ashland, Oregon real estate. We are proud locals, and we want our clients to experience the best that our beautiful city has to offer.
Call us today at 800.334.7499 or send an email to info(at)ashland-homes(dotted)com