Oregon's magnificent Rogue River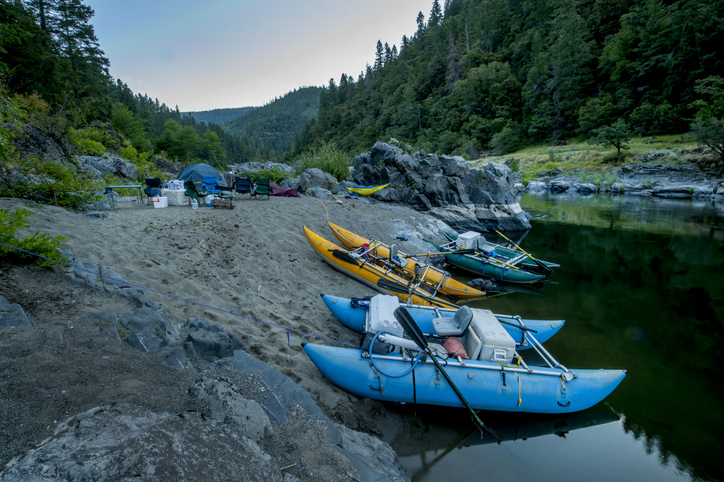 Want to escape the busy city life? The Rogue River might cure your blues. A haven for recreation and relaxation, you can go camping on the riverbank, fish for salmon, get your adrenaline pumping and ride the rapids, or find a good spot for a picnic.
What makes Rogue River so special?
Rogue River is one of Oregon's best outdoor destinations. Over the years, its beauty and charm captivated generations of nature lovers from all over the country. In fact, it even became a favorite among Hollywood royalty. All this, with good reason!
The Rogue River and the beauty of its surrounding landscape is undeniable. It is one of the eight original waterways designated as "Wild and Scenic." Rich Native American history and folklore also surround the river, which helped shape nearby towns.
The Rogue River begins in Boundary Springs near Crater Lake, , then flows west for approximately 215 miles, all the way from Southwest Oregon to California. It runs through the Cascades, Siskiyou, and Coastal Ranges, and then empties out into the Pacific Ocean.
Natural beauty isn't the only thing the Rogue River offers. As you follow its course, you'll find an abundance of wildlife like deer, elk, and wild horses grazing by the riverbanks. You might even spot the occasional river otter and beaver swimming in the waters. In the canyon area, where there are cascading mountain creeks, high vertical cliffs, and sharp ridges, bears, minks, foxes, and mountain lions roam free.
Up in the sky, different species of birds reign and fly. You can see blue herons dive from mid-air to glide above the water. You might also spot the majestic bald eagle soar through the air. Snowy egrets, ospreys, partridges, great horned owls, and Canadian geese can also be seen in the area. A true bird watcher's paradise.
The rich flora that surrounds Rogue River is not to be missed as well. Old-growth pines, madrone trees, and tall redwoods flourish along the river's shores. As a result, the parks and camping spots by Rogue River are well-covered and peaceful.
Things to do in Rogue River
1. Go fishing for steelheads and salmon
Famous for its abundance of salmon and steelhead, the Rogue is a game fisherman's paradise. Regardless of the time of year, you're sure to have an amazing fishing experience.
Spring and fall bring Chinook salmon and Coho salmon to the lower section of the Rogue River canyon. The summer and winter months, on the other hand, bring in a wealth of steelhead. Winter fishing can be an extremely rewarding venture, but do anticipate some foul weather. You can also catch some brown trout, golden trout, catfish, cutthroat, and sturgeon.

If you're up for a challenge, you can try to catch "springer" salmons in spring. These fish are said to be the most aggressive of the bunch and will definitely put up a fight. If you're into steelhead fly-fishing, the best month to go is October.
Adult fish that live in Rogue River deposit their eggs in the gravel until they hatch. For one to three years, species like Coho salmon, steelhead, and green sturgeon will stay in the river. In contrast, the Chinook salmon will swim to the ocean and journey back to where they were hatched to spawn.
The Rogue River hasn't always been the incredible fishing spot it is today. Dams along the river and its tributaries used to impede the natural migration paths of the salmon and steelhead back in the day. This prevented them from reaching their spawning grounds. This caused significant ecological concern. As a result, environmentalists and fishermen lobbied for the removal of almost all the river dams.
Today, the river flows freely and the fish are flourishing in its crystal clear waters. To protect the Rogue River's rich ecosystem, we recommend planning your trip accordingly ahead of time. 
2. Go whitewater rafting 
If you're a thrill seeker who's out for some adventure, the Rogue River will not disappoint. Whether you're looking for a short half-day trip or an exhilarating weekend escapade, there's something here to satiate your need for excitement.
One activity to try is whitewater rafting. Beginners to experienced rafters can enjoy themselves, as the Rogue River has a total of 50 rapids, ranging from Class I to Class IV. Class II rapids over plenty of fun and splash, while Class IV rapids are for the daredevils.
For beginners, we recommend the lower half of Hellgate Canyon. It's a gentle flow on an inflatable kayak with some occasional splashes. Tame, but still memorable and quite relaxing.
If you want to feel adrenaline course through your veins, check out the Class III and IV rapids. Graves Creek offers plenty of challenge, while Blossom Bar and Mule Creek Canyon will make you scream your lungs out.
If whitewater rafting doesn't float your boat, you can try water-skiing, jet-skiing, kayaking, and canoeing in the Rogue River. The jet boat excursion, which runs over 50 miles per hour, is a crowd favorite. Perfect if you want to experience the excitement the rapids have to offer without getting too wet. 
3. Go hiking
Do you prefer to be on land? There are miles and miles of trails near the Rogue River, just waiting to be explored.

Want to hike at a relaxed pace? The 30-mile Rogue River Hiking Trail is for you. It will take you through Graves Creek to Marial. You can rest in one of the wilderness lodges found along the way.
For the full wilderness experience, take the Rogue River National Recreation Trail. At approximately 40 miles long, it cuts through the heart of the National Wild and Scenic Rogue River Canyon. For something more low-key, relax at wonderful picnic sites such as Ben Hur Lampman State Park, Rogue State Park, and Gold Rogue Sports Park.


There are plenty of outfitters that offer hiking trips to the Rogue River Canyon. These are usually multi-day hikes, designed so you can fully appreciate the beauty of the area safely.


Discover more of what Southern Oregon has in store for you! Get in touch with the local experts at Ashland Homes Real Estate today.Call 800.334.7499 / 541.482.0044 or send an email to info(at)ashland-homes(dotted)com.