Why staging your home is important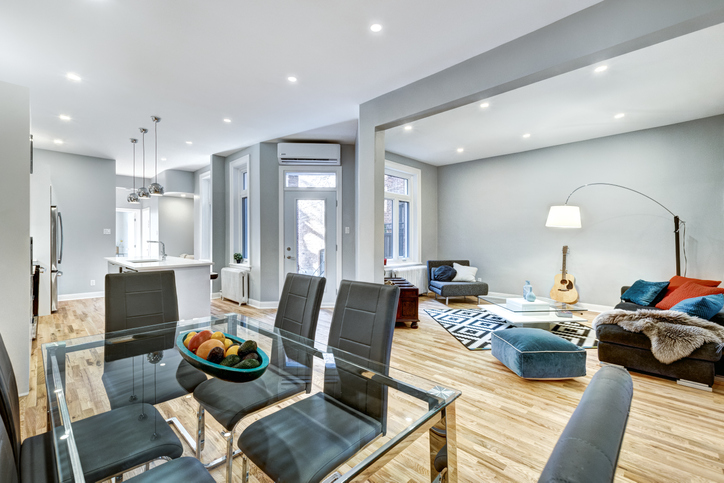 Taking the time to prepare your home for a sale can result in higher offers and fewer days on the market. And while most sellers make obvious repairs and various home improvements to increase their property's marketability, many of them neglect to stage their homes effectively.
Here's why you should give home staging a go.
What is home staging?
Home staging is the practice of styling your home in a way that makes it more appealing to buyers. An essential part of getting your home ready for the sale, staging highlights the property's best features while playing down its weaknesses.
It also makes it easier for buyers to imagine themselves moving into the home by keeping clutter to a minimum and depersonalizing the space.
Home staging services vary depending on your needs and budget. From consultations and furniture rental to full-scale staging, companies offer a variety of services tailored to your requirements.
Why stage your home?
Staged homes spend less time on the market. According to the Real Estate Staging Association, staging can reduce time spent on the market by as much as 73%. Moreover, RESA states that while non-staged homes typically spent 140 days on the market, these same properties sold within 40 days of being staged.
The 2019 Profile of Home Staging also found a slight reduction in the time on the market for staged homes, as reported by 28% of sellers' agents.
A different organization, Staged Homes, found that staged properties average just six days on the market as opposed to 48 days for comparable non-staged properties nationwide.
This means that if you're in a hurry to sell, staging might do the trick. Staged homes attract higher offers. The National Association of Realtors (NAR) found that 22% of sellers' agents witnessed 1% to 5% dollar value increase in offers compared to similar, non-staged properties. 17% of Realtors also said that staging increased the dollar value of a property from 6% to 10%. Moreover, NAR believes that sellers get a potential return of $400 for every $100 invested in home staging, which only goes to show that you don't need to spend a fortune on staging services to get good returns.
Staged homes look better in photos. With the majority of buyers starting their search online, home staging can give you the upper hand in a competitive market. Staged homes photograph better, which entices buyers to show up to the open house.
And while professional real estate photography can certainly make a difference, so does professional home staging – a photographer can only do so much with a home that has not been staged effectively.
How to stage your home
Declutter. There's nothing attractive about clutter, even if it is your personal baseball card collection or countless souvenirs from your travels abroad. Keep in mind that despite your emotional attachment to the clutter in your home, buyers don't have the same connection to these objects. They might even get put off by all the clutter and refrain from making an offer.
That's why it's worth sorting through the clutter in your home and deciding which ones to keep and which ones to dispose. A staging company can help you organize the existing décor in your home as well as offer storage services for an additional fee.
Consider selling or donating items that no longer serve their purpose, but are still in good condition. Not only will this reduce clutter in your home, it will also give you a head-start on packing for the move.
Decluttering simplifies your living space, making it easier for buyers to appreciate the best features of the property. It can also make your living space appear larger, which can appeal to many buyers.
Keep it neutral. Painting the walls a neutral color isn't just easy on the eyes; it also allows buyers to imagine how they might decorate the space themselves.
Moreover, sticking with a neutral palette conveys sophistication and works with a wide range of design themes and elements. It also appeals to a larger audience, since neutral shades are subtle but versatile.
If you really must use a bold color, consider limiting this shade to an accent wall or a few accent pieces to be integrated with the décor.
Depersonalize. This can be one of the hardest things to do for sellers, especially if they've lived in the home for a very long time. Depersonalizing entails removing any item that marks the home as yours – think family photos, personal collections, travel souvenirs, and personal effects.
Depersonalizing the space makes it easier for buyers to imagine the home as their own, hence making them more likely to put in an offer.
It also protects your privacy – open houses allow strangers to enter your home and inspect closets, cupboards, and other storage areas. Depersonalizing the home can help conceal your identity as well as protect you and your family from unwanted attention.
Make room. Remove excess or oversized furniture to free up more space. Not only does this make the space appear larger, it also highlights the layout of your home so that buyers can better evaluate the property. This will also make it easier for buyers to determine what kind and size of furniture they can bring into the home, should they decide to put in an offer.
Rehome pets. We all love our pets, but they can serve as a distraction during an open house. There's also the risk of pets getting stolen or escaping from the home during such an event. Buyers may view certain pets, such as dogs and exotic breeds, as a safety issue during an open house.
That's why many agents recommend rehoming your pets in time for an open house. You can either put them up with friends and family while waiting for the house to sell, or checking them into a "pet hotel" if it's a viable option.
Aside from keeping the property pet-free, you should also remove litter boxes, dog pads, and similar items to remove odors from the home.
Ready to list your home in Ashland or nearby communities? Ashland Homes Real Estate, Inc. is here to assist you. You can reach their agents here. You can also contact the team at 800.334.7499 and Info(at)Ashland-Homes(dotted)com.