Why it's good to own a home in Ashland, Oregon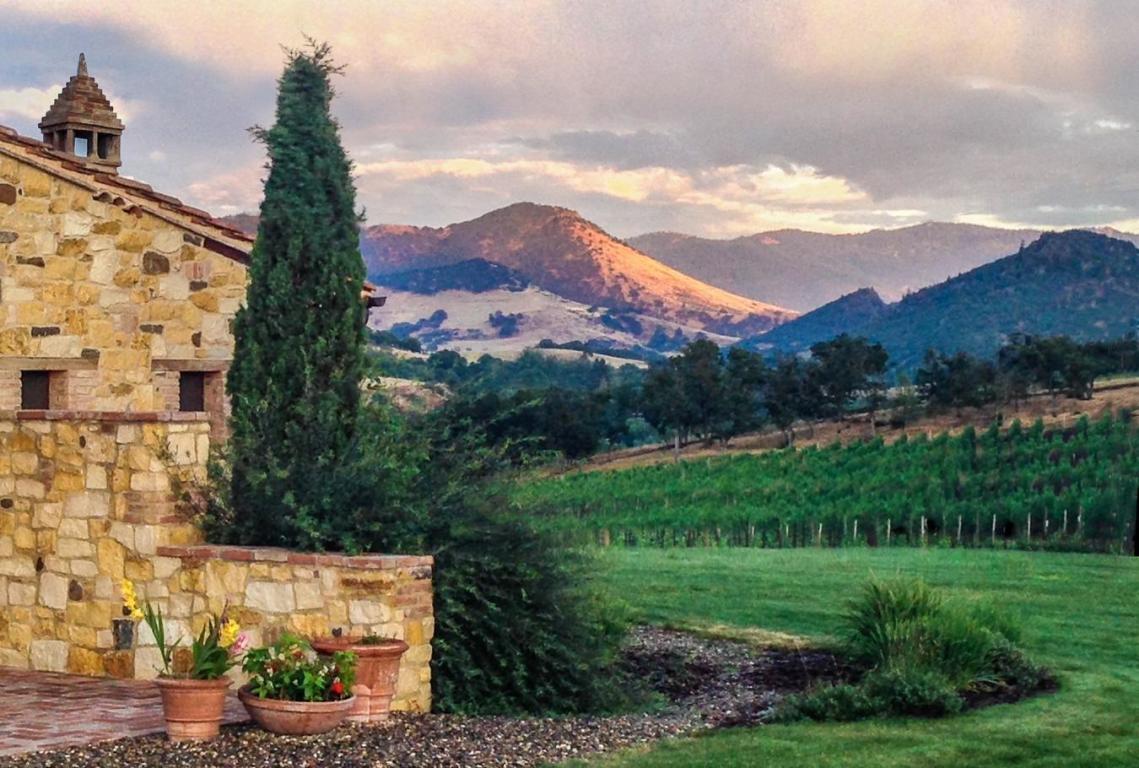 Surrounded by 8 acres of pinot noir and chardonnay grapes, this Italian-style farmhouse in Ashland, OR has 4 bedrooms and 4 baths. It was designed by famed architect Domenico Minchilli. View more details here.
 Ashland, Oregon is the perfect place to enjoy serenity, majestic vistas, and thrilling outdoor adventures.
Hiking, mountain biking, skiing, and wine tasting are among the many fun activities that await you in Ashland.
The city also boasts great shops, cafes, and restaurants that provide you with big-city conveniences while living in the tranquility of nature.
Ranking high among the Top 10 Best Suburbs to Live in Oregon, Ashland is an ideal location for young professionals, retirees, and families.
Check out the many beautiful Ashland, Oregon homes for sale with Ashland Homes Real Estate today.
Welcome to Ashland, Oregon!
Whether you are seeking great outdoor adventures or searching for tranquility in the midst of nature, then Ashland, Oregon is the place for you.
Enjoy stunning views of national parks and surrounding mountain ranges from your Ashland, OR home. Find yourself surrounded by the beauty of nature in a prime location in Southern Oregon.
Aside from communing with nature, you also have the chance to feed your soul in this destination renowned for its art, music, theatre, and dining scene.
Fodor's Travel once ranked Ashland, OR as #9 in its list of 100 Best Small Art Towns in America. The travel publisher said Ashland and the rest that made Top 10 demonstrated "a vibrancy of their own and year-round appeal."
The quality of wines produced in this region allowed Ashland, OR to be named one of the Top 10 Best Wine Travel Destinations in the World. The article, which was published in Wine Enthusiast Magazine, placed Ashland on par with the renowned French Bordeaux region.
When you choose to settle down in Ashland, OR, you will have year-round access to hiking and mountain biking trails, trail running, skiing, and other outdoor pursuits that require travel for most residents in the United States.
All these and more make buying a home in Ashland, Oregon one of the best decisions you can make as a family.
An overview of Ashland, OR
Ashland occupies 6.6 square miles in Southwest Oregon's Rogue River/Bear Creek Valley. Its population is 21,281 in July 2019, based on data provided by the U.S. Census Bureau.
Families settle down in Ashland to raise their kids, while pensioners find plenty of reasons to retire in this city, which is part of Jackson County.
Southern Oregon University, which is just a 15-minute walk from downtown, offers bachelor degrees in arts, sciences, applied science, fine arts, and music.
The city also hosts the annual Oregon Shakespeare Festival, which showcases the Bard's enduring works in an eight-month season that begins in February. Venues include indoor and outdoor theaters.
Ashland was established in a flat fertile valley located in the southernmost tip of Oregon's picturesque Rogue Valley. Majestic Mt. Ashland towers over the area, with its peak rising to 7,500 feet above the city.
Ashland is flanked on the east by the Cascades and on the west by the Siskiyou Mountains. When passing by the town's main thoroughfares, you can get a glimpse of the oak-studded foothills of the dramatic Cascade Range.
Surrounded by creeks and a large lake, Ashland exudes a friendly small-town vibe that makes it attractive to homebuyers who are searching for a great place to raise a family.
Wine enthusiasts will be glad to know that Ashland, OR is a five-hour drive from California's wine country.
Ashland, OR itself is a top destination for wines, with around 120 wineries and vineyards clustered around this area. This makes this town the perfect jump-off point for wine tasting. Its location makes it accessible to regions known for their wine tours and wineries: Umpqua, Rogue Valley, and Applegate Valley. Southern Oregon's wine-growing climate is comparable to that of France's Bordeaux region, according to the Southern Oregon Winery Association.
The closest airport is the Medford International Airport, just 15 miles north of Ashland.
Ashland is centrally located halfway between San Francisco, CA and Portland, OR on Interstate 5.
A brief history of Ashland, OR
A milling center in the 1850s, Ashland's initial community was made up of 50 residents in 1859. The town traces its roots to a flour mill and a water-powered sawmill established on the banks of Ashland Creek. The community was initially called Ashland Mills, but the name "Mills" was dropped in 1871.
Later, it became a farming center, the land yielding bountiful harvests. In 1884, Ashland saw its economy boom, thanks to the coming of the railroad.
In the early 1900s, water rich in lithium was discovered near Emigrant Lake. The water, which is now known as lithia water, was believed to have healing properties, prompting tourists to flock to Ashland.
This inspired locals to establish a mineral spa just like the famous health spa in Saratoga, New York. However, interest in the health fad fizzled out and instead of a mineral spa, a public park was opened near the center of town. Now known as Lithia Park, this green oasis is filled with trees that are over a hundred years old.
In 1872, Oregon's Methodist Episcopal Church founded Ashland Academy. After a series of name changes, it eventually became the Southern Oregon University (SOU) in 1926. SOU now serves over 6,000 students on its 175-acre campus.
Homes for Sale in Ashland's best neighborhoods
Imagine living in a charming town filled with urban amenities and renowned for its amazing food scene, with over 100 restaurants to choose from.
Homes for sale in Oregon represent a wide range of time periods and styles. The streets are lined with historic houses and Victorian homes with beautifully landscaped natural gardens.
Single-family homes dominate the real estate market in Ashland, Oregon. According to neighborhoodscout.com, the city's dwellings consist of:
Single-family homes: 63.1%
Apartment complexes: 14%
Small apartment buildings: 11.2%
Townhomes: 8.7%
Mobile homes: 2.1%
Other property types: 0.9%.
Here is a guide to the neighborhoods of Ashland, Oregon to help you decide the area that suits you the most when you move to the city:
North & Northwest AshlandNature lovers will love the view in this neighborhood, which boasts of large lots and peaceful surroundings away from the commotion of city living.
Cottage District & the Railroad DistrictIf your dream house is a Craftsman home complete with a covered front porch, then you will most likely find it here in this neighborhood. This historic district is also known for its proximity to coffee shops, pubs, restaurants, and shopping destinations.
Three Tiers of AshlandThis neighborhood has prestige written all over it, making it perfect for homeowners who want to take advantage of the high property appreciation rate in this area. Take your pick from vintage homes in 1920s architecture to contemporary houses.
Lithia ParkCraftsman homes and grand Victorian mansions abound in this exclusive residential area. This neighborhood has a premium location due to its proximity to Lithia Park and the historic Plaza, which has been the heart of the town for the past 150 years.
Quiet VillageParents with young children will appreciate living in this neighborhood, which offers reasonably priced homes for sale in Ashland, OR. One major benefit of living in Quiet Village is the fact that it is within walking distance of the highly rated Helman Elementary School.
South & Central AshlandFamilies who are on a budget will find quality properties at affordable prices in this neighborhood, which is located near Hunter Park and Garfield Park.
East AshlandNewly built houses with large lot sizes are available in this neighborhood, which is accessible to the downtown district. Luxury buyers also have the option of purchasing lovely country houses that overlook Emigrant Lake.
For the last 10 years, home appreciation in Ashland, Oregon has remained steady at 4.6%, according to bestplaces.net. For people who are seriously considering moving to this city, now is the best time to buy a house. Ashland was a seller's market in December 2020, with more buyers than available homes for sale. The market is not likely to change anytime soon, according to real estate experts interviewed by Forbes, predicting home prices to rise by 7 to 10% in 2021. Thus, buyers will continue to look for single-family homes in places like Ashland, where the conveniences of city living are equal to the abundance of nature.
Living in Ashland, OR
Ashland's reputation as a great place to live is borne by the accolades it receives.
CNN's Money ranked Ashland as No. 16 on its list of the Best 25 Places to Retire in the United States. CNN cited "a huge network of hiking trails accessible from downtown's Lithia Park" as well as "Victorian homes, delectable restaurants and quirky boutiques."
It landed in the Top 10 of the Best Small Arts Town in America. The world-famous Oregon Shakespeare Festival held in the city every year attests to that.
Ashland received an overall grade of A from niche.com for being one of the Best Places to Live in Oregon. The site also ranked Ashland in the Top 10 when it comes to:
Best Suburbs to Live in Oregon – Top 8
Suburbs with the Best Public Schools in Oregon – Top 8
Places with the Best Public Schools in Oregon – Top 9
When you settle down in Ashland, you'll also get to explore the rugged beauty of Oregon while making the most of various art and cultural experiences.
The region presents plenty of opportunities to bike, hike, and fish in the picturesque Klamath River, the Umpqua River, or Lost Creek Lake.
Located at the convergence of the Siskiyou and Cascade mountain ranges, Ashland offers exhilarating outdoor experiences as well as a relaxing environment.
Here's what awaits you in Ashland, OR:
Play golf. Golfers can tee off at Oak Knoll, which is the only municipal golf course in Southern Oregon. The par 36, nine-hole golf course has a clubhouse and a covered driving range. Other golf courses that are in close proximity to Ashland: Eagle Point Golf Course, Running Y, Centennial Golf Course, Rogue Valley Country Club, Stoneridge Golf Course, Laurel Hills Golf Course, Bear Creek Golf Course, Stewart Meadows, and Quail Point Golf Course.
Top schools await. Education is a top priority in this family-friendly community. In fact, public schools in Ashland consistently score above the national average on state and national assessments and other measures of student achievement. Ashland High School ranked among the top 3% of high schools in the country, as chosen by U.S. News and Reports in the years 2007 and 2009. Its public school district has been included in the top 100 school districts in the country.Owning a home in Ashland will bring you close to Southern Oregon University (SOU), which offers over 30 courses to undergraduate students and 11 master's programs. Undergrads have the option of enrolling in the Colleges of Business, Education, or Arts and Sciences.
Enjoy the great outdoors. While living in Ashland, Oregon, you will quickly notice that residents place great importance on outdoor recreational activities.In fact, Ashland was chosen as one of the Top 10 Places to Visit based on geo-tourism by National Geographic Adventure Magazine.
Ashland has five major rivers and ten lakes that provide access to fishing, swimming, kayaking, rafting, boating, jet boating, and more.

This town has almost 1,000 acres of parkland and 41 miles of trails that are perfect for outdoor enthusiasts. During winter, the 23 trails of the Mt. Ashland Ski Area become a wonderland for skiers who want to make the most of the freshly fallen snow.

Be prepared to be enchanted by this town's breathtaking natural scenery as you explore southwest Oregon's year-round attractions. Miles of pristine shoreline provide hours of beach fun while state parks allow you to hike in lush pine forests.
✪ PARKS. A must-visit is the only national park in Oregon: the Crater Lake National Park. It is the site of an extinct volcano and can be reached after a two-hour drive to the northeast. At 1,943 feet, Crater Lake is the deepest lake in the United States. It is famous for its spectacular deep blue waters that shimmer in the sunlight. When Mount Mazama erupted almost 8,000 years ago, rock and molten lava collapsed into the mountain's center, creating the massive caldera that replaced what was once a 12,000-foot peak.
The local government maintains 18 parks within the city limits that are perfect for those who want to run, hike, bike, bird watch, snowboard, or ski.
Wander along the heart of town to admire the historical and contemporary architecture in Main Street, visit the bustling Saturday Growers' Market, or explore Lithia Park.
Ashland's crown jewel is Lithia Park, which covers 93 acres of wide green spaces, elegant landscaped gardens, and lush groves of sycamore trees. See the pristine Ashland Creek and take a scenic stroll through the Japanese garden and the formal rose garden. Bring your family to go swimming in the park's lower reservoir or relax in the picnic area.
Lithia Park is named after the lithium oxide that is present in the local stream. Ashland's mineral water has the second-highest concentration of lithium in the country, next to the Saratoga Hot Springs Resort in New York City.
✪ CAVES. Visit the Oregon Caves to learn about its incredible geology while exploring marble passageways and appreciating its rock formations.
✪ WHITEWATER RAFTING. Those who want to experience the adrenaline rush of whitewater rafting can take day trips down the Rogue River or the Upper Klamath where there are Class III to Class IV+ rapids.
✪ SKIING, SNOWBOARDING, TREKKING. In the winter, ski and snowboarding enthusiasts will enjoy spending time at the Mt. Ashland Ski Area, which is just 25 minutes away.
This family-friendly ski mountain has steep bowls of powder for adventure-seeking skiers as well as a variety of downhill skiing runs. You also have the option of trying cross-country skiing and snowshoeing during the holidays.
In the summer, the Pacific Crest Trail provides gorgeous views of aspen groves and lush wildflower meadows. This challenging 2,650-mile trek leads to Mount Ashland, the highest mountain in the Siskiyou Range.
Live in the Cultural Capital of Southern Oregon. Ashland, OR is dubbed as the cultural capital of Southern Oregon and for good reason. There are more than 30 studios and art galleries in this town. Art lovers will enjoy browsing the Lithia Artisans' Market, which displays homemade crafts during the weekend. All year long, people can attend a dinner and show at the Oregon Cabaret Theater. Comedies, musicals, and revues are presented in a nightclub setting in a building that used to be the First Baptist Church.However, Ashland is best known for being the home of the Oregon Shakespeare Festival, which is considered the largest regional repertory theater in the US. This Tony Award-winning festival, which launched in 1935, draws more than 100,000 theatergoers pre-pandemic. The theater season lasts for eight months, from February until October.
Eat like a king. Ashland boasts of a thriving district of shops, cafes, and restaurants waiting to be discovered. Taste the sweet, mouth-watering creations of West coast chocolatiers when you attend the Oregon Chocolate Festival held in March. The annual Oregon Honey Festival is perfect for those who love honey and mead (also known as honey wine).
How to buy a home in Ashland, Oregon
Buying or selling real estate property is one of the most important transactions of your life, which is why it is important to choose an experienced broker who will help you navigate this process during the new normal.
Whether you're planning to sell your property or searching for homes to buy in Ashland, Oregon, expert brokers at Ashland Homes Real Estate will provide you with insider information and accurate data about the area to help you make informed decisions.
Since 1980, our community-focused firm has been considered one of the top real estate firms in Southern Oregon for sales and listings. Working with us means that you can relax, secure in the knowledge that you are in the very capable hands of our expert brokers. Benefit from insights borne out of years of living in the area.
Contact Ashland Homes Real Estate at +1 (800) 334-7499 or send us an email at info(at)ashland-homes(dotted)com to get started on buying your dream home in Southern Oregon.