Why Invest in Commercial Property in Ashland, Oregon (and How to Do It Right)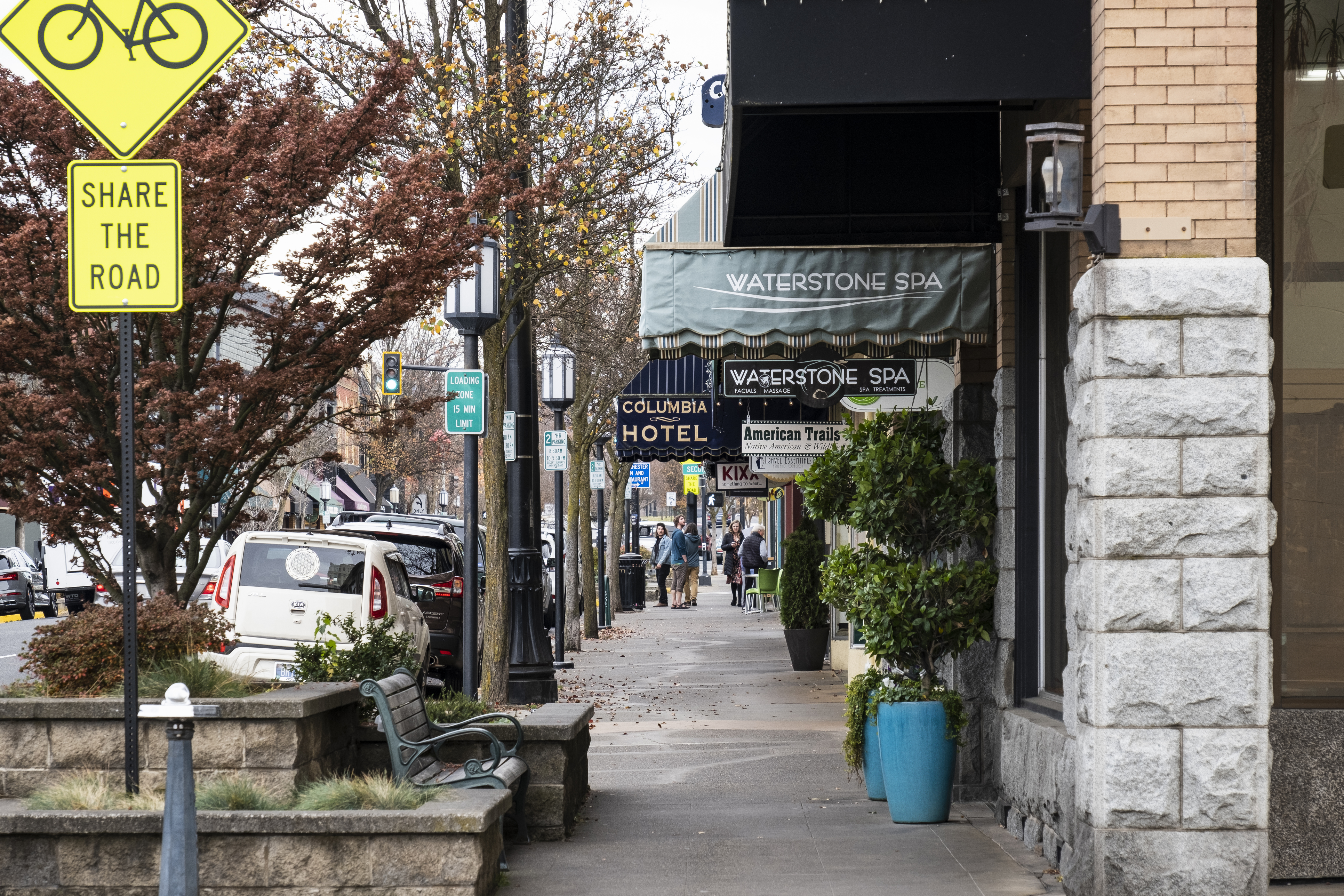 Ashland, Oregon is one of the best cities for commercial real estate. The city's excellent schools, highly walkable areas, and thriving culinary scene continues to attract residents and businesses alike.
The key to investing in Ashland, Oregon commercial real estate is knowing the different commercial real estate property types and the process of investing in one.
Investing in commercial real estate comes with a number of advantages such as generating high volumes of rental income, faster equity buildup, and increased cash flow.
Ashland, Oregon is a small city that packs a big punch. Nestled between the Cascades and the Siskiyou, it has a fantastic Mediterranean-type climate, a close proximity to the great outdoors, and a creative culture that fuels innovation.
The city is also home to Southern Oregon University's main campus and schools in the area consistently rank among the best in the country. Downtown Ashland, which is highly walkable, possesses an unexpectedly cosmopolitan and thriving culinary scene. With all this and more going for it, it's not surprising that Ashland continuously attracts new residents and businesses.
If you're considering starting a new enterprise or investing in commercial real estate here, you'll also be happy to know that the city has a friendly, supportive business climate. There are plenty of independent businesses here and the top employers are major healthcare companies, accommodation and food services, the education sector, and retail trade. This particular mix of industries makes Ashland a promising secondary market for commercial real estate investors to tap.
Ready to get started in commercial real estate investment? Let's take a closer look at the different kinds of commercial properties available.
What is commercial real estate?
Commercial real estate refers to any property used by its owner or tenants for business activities. These business activities are manifold and range from food service and consumer retail to offices and warehousing.
The main thing that differentiates commercial real estate from residential is that commercial properties primarily exist to generate profit.
The term commercial real estate is an umbrella term for properties with vastly different uses. The segment is generally divided into four main categories: retail, office, industrial, and multifamily.
Retail. Properties under this category include businesses like restaurants, stores, and groceries, among others, which interact and transact with the general public. Shopping malls, strip malls, and shopping centers are typical examples of retail properties.

Because retail success often depends on accessibility and high visibility, it is best to invest in centrally located properties with high foot and vehicular traffic. Investors in retail properties can expect to sign their tenants to a 4-to-5-year agreement on average.

Office. These properties, which house the branch offices or headquarters of companies, are commonly found in high-rises and skyscrapers in major cities and in mid-rise buildings in smaller cities and communities. On average, leases for offices range between 5 to 10 years.
Industrial. Any property used for the purpose of manufacturing, assembly, warehousing, chemical processing, and other similar industrial processes fall under this category. Storage facilities, distribution centers, and factories are a few examples. Because of tighter environmental and zoning regulations, these properties are typically situated away from residential and retail properties. Lease terms usually start at 5 years.
Multifamily. As the name implies, multifamily properties are rental properties meant for housing. Tenants are usually individuals, not businesses. These properties include duplexes, apartment buildings, townhomes, co-ops, and condominiums. Multifamily properties have short rental terms that can run from a few months to a year.
In some cases, investors will see two or three of these categories sharing the same building or lot. Such properties are referred to as mixed-use properties.
One other unique category known as special purpose refers to commercial properties with a highly specific use. Think in terms of schools, airports, and amusement parks.
Ashland's relative diversity across industries offers commercial real estate investors the opportunity to choose a worthy investment from any of the abovementioned property types.
Advantages of investing in commercial properties
While the stakes for commercial real estate investment are higher than they are for residential, savvy investors continue to add commercial properties to their portfolios. They know that commercial real estate offers them a good chance at generating high volumes of rental income and that these properties tend to appreciate faster.
A few more advantages of choosing to invest in commercial real estate are:
Greater income. Portfolios that include commercial properties generate higher earnings compared to those that only focus on residential homes. Renting out single-family homes will garner you a profit of one to four percent. In comparison, commercial properties can generate returns of six to twelve percent.

Tenant lease agreements, which are concluded for larger spaces, for longer periods, and with businesses rather than private individuals, only multiplies income potential. In short, commercial properties are much more profitable in the long run.

Faster equity buildup. As with residential real estate, buying commercial property often involves taking on a mortgage. Investors build equity by paying down mortgage debt. Since commercial properties are covered by shorter loan terms (averaging 5 to 20 years as compared with 15 to 30 years for residential loans), investors get to build equity faster.

This in turn puts an investor in a good position to boost their portfolio, whether through buying other properties or making improvements to the existing property to increase market value.

Increased cash flow. In real estate, cash flow refers to the amount of money still remaining after all owning, operating, and managing expenses for the property have been settled. While residential properties also generate cash flow, the average residential property will never match the income stream from a commercial property. Commercial properties have size and time on their side: more tenants and longer lease terms.
Security. You can draft long leases with tenants, making commercial properties a more stable investment. Additionally, they are also much less volatile than investing in stocks or bonds.

Security (and income) can increase if tenants choose to sign net lease agreements. Net leases allow a commercial real estate investor to keep more profit by transferring operating expenses to tenants in exchange for lower base rents.

There are three kinds of net leases: single (rent plus property taxes), double (rent with property taxes and insurance), and triple (rent plus taxes, insurance, and maintenance).

Leveraging. The scale of commercial real estate allows investors to take advantage of leveraging to accelerate equity buildup. Commercial real estate loans allow investors to risk just a portion of their own assets while benefiting from the advantages of owning a high-value property.
Tax benefits. Commercial mortgages can qualify for a variety of tax deductions, including mortgage interest deductions, depreciation deductions, and non-mortgage deductions concerning maintenance, management, and operation.

To get a better idea of the options available to you, seek advice from a licensed tax expert or advisor.

Professional relationships. One huge advantage of dealing with commercial tenants is that most are businesses themselves, so they take much more care to remain professional in their dealings. Greater objectivity is practiced and communications use polite language to better preserve the business's reputation.

Moreover, because the curb appeal and condition of a property also partially reflects on them, commercial tenants are more likely to pay more attention to maintenance and are just as interested in making improvements that can increase market value.

Businesses also have fixed operating hours, making it highly unlikely for you to get a call from your tenant late at night demanding that you fix an issue at a moment's notice.
How to purchase commercial property in Ashland, OR
Define your goals and motivations

Every real estate investor must understand and carefully assess the motivations behind every particular investment. As a potential commercial property investor, focus on what returns you want to see as well as which responsibilities you will need to (and are willing to) take on to achieve those goals. Ask yourself questions like, "How much income do I want to take in every month?" and "How long am I willing to hold on to a property to realize its potential?"

Choose your investment according to the goals you've set and how well it matches your motivations. However, do remain open to the possibility that you might have alter your plans based on available listings in the local market.

Assess your financial capacity

Once you have a clear plan of attack, you'll want a full picture of your financial circumstances. Commercial real estate loans have stringent qualifications — and extensive paperwork is often involved. Lenders want to minimize the chances of anyone defaulting on a loan — especially one that involves a large sum — so take the initiative to fix any errors on your credit report and/or your accounts before you even file an application.

Seek to understand how lenders use loan-to-value ratios to assess risk and how debt service coverage ratios influence your loan chances. Understanding these aspects will help greatly in facilitating the approval of your loan.

Secure financing ahead of your search

Commercial real estate investments take time. In some cases, buying commercial takes twice as long as buying residential. The high bar for qualifying for the proper financing only extends this time — several weeks can stretch to months depending on the type of loan.

To make sure you don't lose out on a good deal, familiarize yourself with the most common commercial property loans, such as commercial bridge loans, conventional loans, hard money loans, and SBA 7(a) loans. Don't forget to compile documents well in advance. Profit-and-loss statements, personal bank and financial statements, and tax returns are just a few of the documents you'll need.

While the down-payment-and-mortgage combination is the most common way for real estate investors to finance a commercial property purchase, there are a few other alternatives that involve reaching out to third parties for support — options like joint ventures and crowdfunding.

In joint ventures, you pitch your proposal to investors and form a company to bring them into the purchase. The bigger pool of money allows you to qualify for better loan terms and go after higher value properties (larger or located in a primary market).

Crowdfunding takes the same idea and splices it with technology. Like joint ventures, crowdfunding allows you to pool money. The main difference is that the money is sourced through transactions completed over an online platform.

Hire the right team for the investment

Entering into commercial real estate can be intimidating. Transactions are highly complex, often with several steps occurring simultaneously. To improve your chances of finding the right prospect, build a team of commercial real estate experts who can offer you valuable guidance through every step of the investment process.

For any commercial property purchase, always consider hiring:

a commercial real estate agent with extensive experience in the property type and market you want to invest in
a commercial real estate attorney who can guide you through legal requirements, local regulations, and zoning compliance and approvals
a tax advisor who will work to get you the best possible benefits for the property
and a property management company that will deal with tenants and assume responsibility for the property's upkeep

With the right team assembled, you'll have a higher chance of landing a great investment.

Look at the right properties

You're now ready for the property search. Evaluate the properties you're interested in according to your already-formed plan. Take the time to carry out an in-depth market analysis.

The success of your investment will depend on several factors, including location, tenant type, occupancy rate, usable area, and — increasingly so — tenant expectations surrounding "smart" features. Multifamily dwelling investors, for example, are seeing an increasing number of tenants who will pay more to live in a unit that offers features like smart locks, smart thermostats, and automated lighting. (If you're an investor in this property type, purchasing apartment buildings with existing smart technologies is a promising, future-proof tactic.)

To gain a fuller picture of a property's viability for investment, include these other important factors in your market analysis: local demographics, supply and demand, comparable sales and properties, historical figures for rent and expenses in the area, and trends.

Run numbers and do due diligence on the property

Investors and brokers use several metrics to assess a commercial property's profitability. Once you understand how the metrics function and relate to each other, it will be easier to conduct due diligence and shortlist the properties that are worth your time.

Net operating income (NOI). NOI refers to a commercial property's total income minus all other expenses except taxes. It's how much money flows into the property every year.
Capitalization rate (Cap rate). This valuation is computed by taking a property's net operating income and dividing it by its market value. The resulting percentage represents a property's expected yield for a year, excluding debt.

Cap rates are a measure of risk that lets investors decide whether a property, given the expected rate of return, is worth purchasing.

Internal rate of return (IRR). This metric measures a property's profitability during the whole period you own it. It gives an estimate for its return over time for each dollar initially invested. Properties with high IRRs typically make good investments.

Gaining a working knowledge of the metrics above is crucial for commercial real estate investors; it helps lower risk exposure in an already high-stakes environment.

Make an offer and close the deal

This stage of any real estate investment marks the home stretch. Pay great attention to detail when preparing your offer. Save on time and legal fees by sending a letter of intent (LOI).

Even though it isn't legally binding, an LOI lets a seller know that your offer is serious, especially if there's a clause detailing swift action on your part if the seller agrees to your proposal.

If the seller responds favorably, move quickly and draft a formal purchase contract. Carry out any additional due diligence you need as you finalize the agreement, and work closely with your investment team to clarify legal intricacies like zoning approvals, environmental reports, escrow agreements, and the handover process. Negotiate where necessary.
What makes Ashland, Oregon great for commercial real estate?
Despite its small size, Ashland makes a great investment location because of its healthy mix of culture and industry.
Famous events like the Oregon Shakespeare Festival and lovely terrain that supports viticulture and outdoor expeditions boost tourism, ensuring demand for retail properties.
A healthy percentage of renters — about 48% of the population (NeighborhoodScout) — and the presence of a university make it great for investors in multifamily properties.
The presence of major companies like Asante Health System and Lithia Motors (in Medford) also makes room for commercial property investors who are interested in office buildings and industrial spaces.
Connect with experts in Ashland commercial real estate
Are you looking for a partner in your Ashland, Oregon commercial venture? Get in touch with the team at Ashland Homes Real Estate. Our many years of experience in real estate gives us great insight and expertise in the local commercial real estate market, from industrial space to land. We are intensely committed to the communities we work in and support local organizations and businesses.
Reach out to our team of full-time, highly dedicated and experienced professional brokers at 541.482.0044 or info(at)ashlandhomes(dotted)com. We pride ourselves in working closely with our clients to make each transaction a hiccup-free experience.