The best kayaking spots in and around Ashland, OR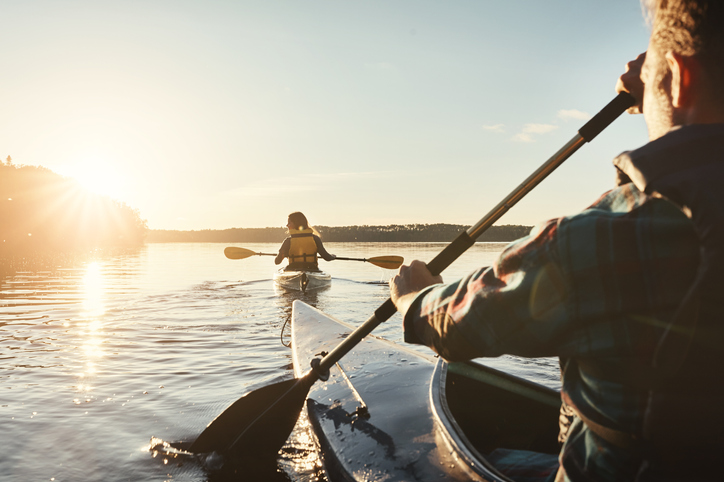 The Rogue River Valley and the lakes that shimmer throughout the area are central to kayaking in and around Ashland, OR. Rushing rivers or fabulous lakes boast picturesque views and loads of wonderful activities. In this article, you can find out more about these spots and how to get there.
Emigrant Lake
Emigrant Lake Country Park, 5505 OR-66, Ashland, OR
Emigrant Lake is the most popular lake in Ashland. It's just a 15-minute drive from the downtown area and boasts a range of kayaking activities, as well as stellar views of the mountains.
There are plenty of services and amenities located on the lake, which include restrooms, food stops, campsites, water slides, and a whole lot more. Emigrant Lake is ideal for a day trip but you can also go on a camping trip. There are tons to explore for both adults and kids.
The lake offers opportunities to enjoy watersports all year round. Bring your own kayak or travel light and simply rent your watercraft from rental shops around the lake. If you're keen on a fun family adventure, then Emigrant Lake is the place for you.
How to get there:Emigrant Lake is easy to get to from Downtown Ashland. Drive down Siskiyou Boulevard and then make the turn to Ashland Street. Keep driving and then make the turn to Emigrant Lake Road. You should note that there is a $4 entry fee per vehicle.
Applegate Lake
41 miles southwest of Ashland, OR
One top destination for kayaking can be found within the Rogue River-Siskiyou National Forest in Applegate Valley, OR. Just 41 miles from Ashland,
Applegate Lake has picturesque views across its 18-mile-wide waters.
You can choose to bring your own kayak or rent one in the nearby campgrounds.
Aside from kayaking, you can also go paddle boarding and canoeing. Note that there is a speed limit of 10 mph on the lake.
During the summer months, the lake can get busy, so it's best to get there early in the morning. There is also the chance to spot wildlife or take a dip in the waters.  Overall, Applegate Lake is well worth visiting with friends or family.
How to get there:You can get to Applegate Lake by following signs to OR-238. Remain on this route for 7.8 miles and then turn to Upper Applegate Road. Drive down the road for another 15.6 miles until you see directions to the actual lake. There is a small charge for parking.
Hyatt Lake Recreation Center
20 miles east of Ashland, OR
Hyatt Lake is another suitable place to kayak. Found inside the Cascade-Siskiyou National Monument, the lake is frequented by those who enjoy a range of watersports. It's also a great place to spot wildlife. You can expect to see bald and golden eagles, owls, deer, otters, and so much more.
Whether you want to go paddling, canoeing, or kayaking, Hyatt Lake has a range of rental services on-site that will provide you with the best equipment. You can also find a few restaurants in the area so you can grab a bite to eat when you want to wind down after a day paddling on the lake.
A nearby campground is convenient for family trips; it includes all of the essential facilities that you need. Hyatt Lake is a wonderful destination that allows you to kayak whilst enjoying the fabulous views.
How to get to Hyatt Lake:From Downtown Ashland, head to Ashland Street. Drive east down Highway 66 for 17 miles until you get to E. Hyatt Lake Road which you'll need to follow for the next three miles. It is important to note that there is a fixed parking fee of $3 per vehicle.
Howard Prairie Lake Reservoir
24 miles east of Ashland, OR
Howard Prairie Lake, which is located between the pine forests of the Cascades Mountains, is two miles from Hyatt Lake. Like the latter, expect stunning landscapes and opportunities to spot wildlife at Howard Prairie Lake.
When it comes to kayaking, however, Howard Prairie Lake has almost double the surface area of Hyatt Lake. This makes it ideal for experienced kayakers and canoers. You can also enjoy other boating and sailing activities, as well facilities like the lake's full-service marina. This is definitely the lake to visit if you want a total watersport and boating experience.
How to get to Prairie Lake:Refer to directions to Hyatt Lake. From Ashland Street, however, make the turn to Dead Indian Memorial Road. Drive down for 17 miles and then make the turn to Hyatt Prairie Road. You should note that there is a $4 fixed parking fee for each vehicle.
Ashland, Oregon is a location famous for outdoor activities, and kayaking is one of the most popular activities. Whether you are a beginner or a pro, you will be able to find the perfect spot to suit your skill level. Enjoy the activity as well as Oregon's stunning, natural views. Mix up your activities depending on the recreational activities offered by each site. Go with friends, or bring the whole family along. Make every kayaking trip one to remember. And plan your next outing even before you head back home.
Homes for sale in Ashland, OR
If you're considering moving to an area with ready access to recreational activities on or by the water, scroll through this page. Or contact Ashland Homes Real Estate, one of the top firms in Southern Oregon, at 541.779.0790 or info(at)ashlandhomes(dotted)com.
Our team of full time, highly dedicated, and professional brokers will help you in your real estate journey every step of the way. All of our agents have in depth local knowledge and know the Southern Oregon real estate market by heart.
We work collaboratively with our clients and represent them in the kind of property that suits their needs. Our firm specializes in a variety of real estate such as residential, rural, land, commercial, income, exchange properties, and more.