Smart home technology trends you should try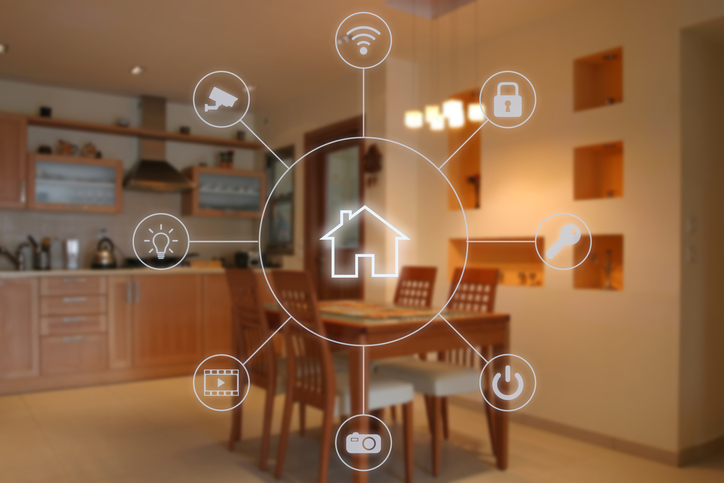 Home innovation has taken great strides in recent years thanks to the advent of smart home technology. From the modest timed coffee makers to an app that can control your home's function, leaps and bounds have been made.
New smart home tech has enabled homeowners like you to create comfortable, convenient, and secure spaces designed to fit your needs and preferences.
Here are a couple of trends you might want to incorporate into your home
1. Wireless (and smart) lighting
Standing up to flip the light switch on and off isn't the easiest thing to do, especially when you're comfortable in your seat or bed. With wireless light bulbs, however, you can control the lights through your smartphone.

High-tech bulbs like the Philips Hue LED Lighting System come with wireless LED capabilities. You can easily  change their colors and brightness, put them on a timer, and turn them on/off through an app you can install on your smartphone or tablet. 
2. Smart home appliances 
From refrigerators to wall ovens, there's no kitchen appliance out there that can't be turned into a smart device.
LG's InstaView refrigerators, for instance, have see-through glass doors which double as computer screens with built-in Amazon Alexa speakers. This way, you don't have to open the fridge to check what's inside. You can also easily keep tabs on available food items and leave notes via the computer.

GE's Kitchen Hub is another handy tech you can use. It's a 27-inch smart screen mounted above the stovetop, acting as a ventilation system and a kitchen assistant you can use to find and store recipes. 
3.Digital thermostats
Advanced cooling and heating systems are not entirely new, but they remain one of the most popular and must-have smart home tech. With a digital thermostat, you can control the temperature of your home remotely and even put it on a schedule so it adjusts the temperature even when you leave the house.
These days, digital thermostats also offer other features. Some are equipped with body temperature sensors, which allows it to change the temperature to suit its users automatically. How handy is that? 
4. Cleaning robots
Robot vacuum cleaners have come a long way from the humble Roomba. There are now a wide variety of cleaning robots out in the market with an array of high-tech features.
This is a must-have, especially if you're usually preoccupied with other chores. You simply turn the robot vacuum cleaner on and it does the cleaning for you. Some cleaning robots in the market can navigate obstacles and have different types of cleaning modes. You can also set a cleaning schedule. 
5. Smart sensors
Smart sensors come in many forms and types, doing all sorts of things that make life convenient and more comfortable.

For instance, there are smart sensors that can detect thermal leaks, gas leaks, smoke, carbon monoxide, and other dangerous chemicals in your home. There are also window and door sensors that amp up your home's security. Some smart sensors are also created to address specific needs, such as water management and even assisted living.

Regardless of the kind you buy, most smart sensors are attached to a partner app. This app can send you notifications and even alert the proper authorities in case of fire or break-ins. 
6. Voice-controlled virtual assistants 
Smart home technology has allowed homeowners to actually talk to their homes. With just a simple voice command, you can control your home with ease.
A virtual assistant helps you take care of simple tasks without lifting a finger. Whether it's changing the home's temperature or turning off the lights, it can do it for you. It comes as no surprise virtual home assistants like Amazon Echo, Google Home, and Apple HomePod are popular.
Due to its popularity, tech companies are still cooking up ways to make virtual home assistants even better. Kohler even incorporated a voice control function on some of its new lights and toilet models. Voice-controlled virtual assistants are also being incorporated in mirrors and even pet-monitoring devices.
7. Home management hubs
A centralized home management hub can link all your different smart home devices so you can control it using one app installed on your smartphone or tablet.
Just like voice-controlled virtual assistants, a home management hub help you control almost every aspect of your home. You'll be able to have remote access to everything, home from the music in each room to the security system.
More importantly, home management hubs give you information about your home, allowing you to keep things running smoothly even when you're away. 
8. Smart security devices
With so many smart security devices on the market, you can easily feel secure in your home.Some of your options include Honeywell Security System, ADT Pulse, and Nest Secure.
Another great cost-effective security measure that's been gaining popularity is installing video doorbells. Products like Nest Hello lets you monitor your home's front door for that added security. 
9. Green technology
A growing number of homeowners are thinking about their carbon footprints and are working to lessen their impact on the environment. As a result, more green home tech are available in the market.
Small devices like smart plugs let you control appliances and turn them on or off remotely. They can even monitor your power consumption so you can save energy more efficiently. Meanwhile, smart faucets, shower meters, and rainwater collecting systems can help you conserve water. 
10. Smart design
More companies are looking to create smart home technology that is functional but stylish as well.

For instance, there's GHSP's Smart Backsplash, which has an edge-to-edge touch screen that allows you to do everything, from controlling appliance settings to closing your garage door. When on idle mode, the backsplash display a family portrait or appear like regular tiles. 

To learn more about smart home trends and other ways you can improve your home, browse the blog today! You can also get in touch with the team at 800.334.7499/541.482.0044, or send an email to info@ashland-homes.com.