Must-have apps to help you decorate your home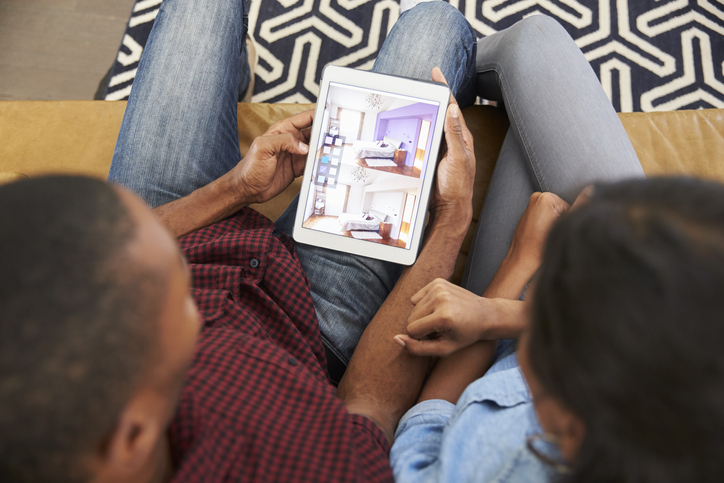 Like other areas of home improvement, interior design has jumped right into the app-craze. Gone are the days of scouring magazine issues (in print!) for tips and ideas on how to remodel or renovate. Designing your home is now just a screen tap away.
There are hundreds of design apps out there, each vying for space on your smartphone screen. To help you out, we came up with a list of nine must-haves available for both iOS and Android. With these apps, you'll be more than ready to tackle any future home projects. Let's dive in.
Mood boards made easy
With a database of more than 16 million high-resolution photos, Houzz is the gold standard for home-decorating apps. It's a little bit of everything: part mood board, furniture store, and floor planner. You can browse the app for ideas by style and room, create and save mood boards, and share favorites with family, friends, professionals, or clients.
If you see something you like from any of the photos, just tap on any white tags. The app will present a listing of similar items which you can add to your shopping cart. You can even virtually "try out" an item in your home through the app's augmented reality mode.
The go-to website for all kinds of design and DIY ideas, Pinterest is now in app form. Its accurate search tool is particularly handy when you're searching for a specific kind of mood or style.
Organizing your favorite items is the least of your worries with Pinterest. With its intuitive interface, you can easily create categories for your favorites, ready to be referenced at a moment's notice.
No more guessing games with colors
Have you ever spent hours trying to figure out the perfect color scheme for your living room? With Adobe Capture, you no longer have to stress about color combinations. Just snap a picture of the space with your phone and let the app create the palettes for you. Adobe Capture can even generate patterns based on images you like.
Pantone, the bible of all things color, now has an app that will settle any arguments on whether the white you're looking at is ivory or cream. With more than ten Pantone color libraries to cross-reference, you'll never have to guess on a color again.

Finding out the color of something you've come across (a flower, for instance) is just two steps away. Take a picture, then wait for the closest Pantone color to match. Got your heart set on a particular color? The app will generate matching colors for you, so you don't have to let go.

There's a similar Pantone app for iOS called PANTONE Studio, available for $7.99 a month.
Lay it out — in 2D or 3D
Floor plans basically dictate how the room you're renovating or the house you're building from the ground up is going to look. The thing is that they're not the easiest to understand, which makes providing feedback a challenge. Leave CAD to the design pros and download Planner 5D to show how you really want your space to look.
Planner 5D allows you to design your home in all planes — from humble 2D to innovative virtual reality. Start with a simple 2D layout and work your way up. Customize divisions, add in French doors and windows, and organize furniture. It's so easy to use, it's just like building a house in The Sims.
Magicplan is another 2D/3D floor planner that makes designing your home simple and easy. Instead of modifying default room sizes like in Planner 5D, you can take pictures of the space you have now using the app's guidelines. This feature makes Magicplan ideal for renovation and remodeling projects. Constant back-and-forths and miscommunication with contractors can now be easily avoided. All you need to do is open Magicplan, show, and tell.
Make measuring a breeze
Unless you're a construction worker with a tool belt, you're not likely to lug a level or ruler around with you. Instead of walking all the way to the garage and rummaging for one, pull up iHandy Carpenter on your phone to quickly check the angle of a surface or confirm that it's level. This 5-in-1 tool app (surface level, bubble level, ruler, protractor, and plumb bob) gets the job done decently after a quick calibration.
Measurements. When it comes to home and interior design projects, there's no getting around their importance and tedium. You'll be taking them, double-checking them, and conferring with contractors about them. They must need to be done right, no matter how repetitive and time-consuming.
Luckily, Photo Measures helps you make it a one-time task. Snap photos of a room or item, draw, and save your measurements right on the photo via the app. Categorize the photos for easy reference and add notes for clarification. You'll have the exact measurements ready anytime and anywhere.
It's always great to have an app that's versatile. Sun Seeker is not only a nifty tool for homeowners, but also for hikers, photographers, and gardeners. The sun may gift us vibrant azaleas and great beach weather, but it's not always welcome element for furniture or your air-conditioning, especially when it's shining into your living room all day long.
Sun Seeker helps you track the sun's path and figure out where and when it's hitting your home the most. Based on info from the app, you can easily decide whether to install awnings or window tint and subsequently enjoy savings on your utility bills. You can also use Sun Seeker to design a home that can keep itself cool yet well-ventilated, particularly in places that deal with plenty of sunshine.
Designing a home doesn't have to be hard
With these must-have apps at your disposal, you can easily design your dream space or home.


Find more home improvement tips when you browse Ashland Homes Real Estate's blog. If you would like to learn more, contact the team today at 800.334.7499 / 541.482.0044 or info(at)ashland-homes(dotted)com.