How to Do Online House Hunting in Ashland, Oregon
The COVID-19 pandemic has leveled life all over the world, and for the first time in a very long time, we all had to contend with changes we never planned for at all. The way we work, bond with friends and family, enjoy sports and entertainment, travel, and stay healthy has all been disrupted—and it does not look like things are going back to our old definition of "normal" soon.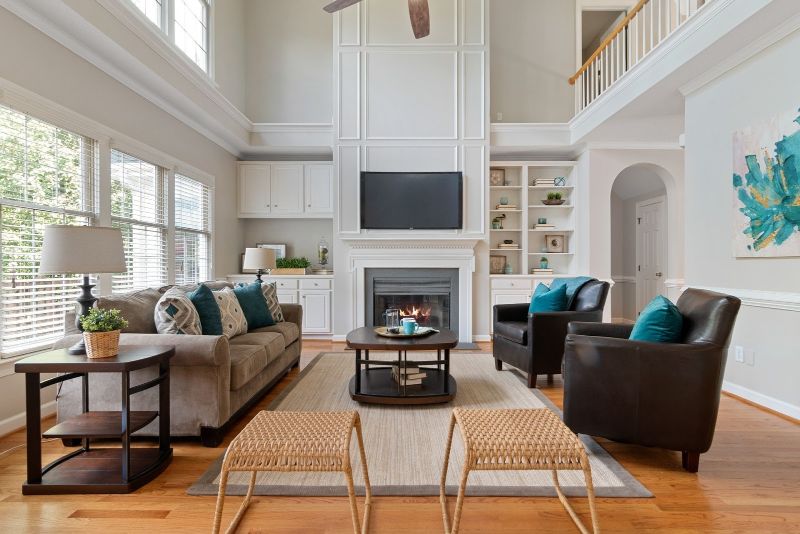 The real estate market, however, has remained the most resilient sector of the US economy during the pandemic. According to the National Association of Realtors, home sales last September totted up a huge surge that has not happened in more than 14 years.
Similarly, prices for single-family homes, among other properties, all over the country saw a 12% boost during the third quarter of 2020, recording the highest annual increase in seven years. This is true across 181 metropolitan areas, and as many as 117 regions.
A solid reason for this level of activity within the real estate market is, ironically, the pandemic itself. As life slowed down to a halt and demanded that we do virtually everything within the comforts of our own home, the typical American has realized the importance of home itself.
No matter the type of unit and geography, interest in moving to a better-placed home with better amenities and other perceived benefits has stayed front and center in the eyes of prospective buyers of properties.
Additionally, interest and mortgage rates have also dipped into record-level lows, which has only encouraged house hunters and buyers. This coincided with a relatively short recession, which fortunately did not change home buyer psychology that much.
JP Morgan forecasts that more of the same will happen this year. According to their Chief U.S. Economist Mike Feroli, "Given our outlook for the fundamentals, particularly for mortgage rates to remain near historic lows, we believe housing will remain the strongest major sector of the economy."
This means great news for both home buyers and home sellers! If you're looking to buy a house in Ashland, Oregon, this guide is for you.
Community Overview (Ashland, Oregon)
Nabbing a top ten spot in The 100 Best Small Art Towns in America, Ashland is known to be a cultural hotspot in Oregon that melds Shakespeare plays with nature trips, year-round. It is said that in 1935, the city loaned $400 to a local teacher to stage two of the Bard's plays inside a run-down theater, and before the decade was over, the town became famous all over the world for the Oregon Shakespeare Festival.
Much of the town's identity cannot be separated from paying homage to the beauty of Shakespeare's words, but the city has enjoyed quite a long history of preserving its commitment to beauty, in general. Shortly after being joined by rail to Portland and San Francisco, the city's Women's Civic Improvement Club petitioned for a community space along Ashland Creek, which later became Ashland Canyon Park. Around the same time, lithia water was discovered near Emigrant Lake, which moved the townspeople to establish a mineral spa within the area, and they commissioned esteemed landscape architect John McLaren to design the park, which became one of its renowned attractions, Lithia Park.
Nestled by the Siskiyou and Cascade mountain ranges, Ashland is a picture-perfect postcard view by day, and a thriving cultural hub at night. It is also home to the South Oregon University, which makes it perfect for anyone that wants to start a family, live somewhere with a deep-rooted connection to knowledge and art, enjoy scenic sights, or all of the above.
Thinking of moving to this gem of an art town? Let's see how its real estate market is faring, if you're in town for residential properties.
Ashland Oregon Real Estate Market Update
If you want to move to Ashland, you'll be joining the 27th largest community in Oregon, with a population of 21,281. The city is known to be a white-collar city, with more than 90% of its workforce employed in white-collar jobs; it particularly has more residents that work in computers and math, compared to nearby Jacksonville and 95% of places in the US.
In addition to that, it is home to artists. Shaping much of the area's character, it has more artists, designers, and other people working in media, compared to 90% of other places in the country.
Ashland is also no stranger when it comes to working from home. More than 12% of its residents already enjoy remote work arrangements. This can be attributed to Silicon Valley employees who telecommute, instead of actually going to the office.
As for diversity, Ashland is somewhat diverse. Many of the residents report their race to be White, as well as Asian. English is the most common language spoken, with a few spatterings of Spanish and French.
Housing Prices
NeighbhorhoodScout.com reports that home prices in Ashland are the most expensive in Oregon and among the most expensive in America. Its most expensive neighborhoods, in particular, are as follows:
N Main Street / Scenic Drive
Tolman Creek Road / Siskiyou Boulevard
City Center
Pinehurst / Climax
Green Springs Highway / Old Siskiyou Highway
Southern Oregon University / Siskiyou Boulevard; and
E Main Street / Ashland Street
Median home prices range from $472,013 (NeighborhoodScout.com) to $585K (Realtor.com), and home appreciation values have risen by more than 100% since the 2000s, at an average annual rate of 3.51%. This ranks 8th compared to the rest of the United States.
The neighborhoods that recorded the highest appreciation rates since the 2000s are as follows:
Green Springs Highway / Old Siskiyou Highway
E Main Street / Ashland Street
City Center
Southern Oregon University / Siskiyou Boulevard
Tolman Creek Road / Siskiyou Boulevard
N Main Street / Scenic Drive
Pinehurst / Climax
Meanwhile, according to Realtor.com, the sale-to-list price ratio for house listings in Ashland is a whopping 99.78%. This means that homes put up for sale are sold for approximately their asking price, according to data from February 2021. Additionally, homes in the area usually sell after three months on the market.
Now, this may make you think: Is it a good time to buy a home in Ashland? The real answer, for those looking for short-term investments, is no. As having one of the most expensive real estate markets in the entire country, Ashland homes are better suited to those who have long-term plans.
If you do have long-term investment goals, house appreciation rates in the area have steadily climbed up over the years. This will mean that your home will have a higher value in the future, and since the area attracts a lot of young professionals, property values will remain positively beneficial over time.
Online House Hunting Tips in Ashland, Oregon
The COVID-19 pandemic has limited movement all over the country, which means that in-person showings for properties and house listings are also not allowed by many states. In some cases, personal house tours can only accommodate a certain number of people, and must follow social distancing protocols.
To better ensure your health and safety, conducting your house hunting online is the best option. To help you make the most of it and find your dream house in Ashland, Oregon, consider these tips.
Find a local real estate agent. The process of buying a house, especially if it is your first time, can be a daunting experience, and having professional help will ease the process for you. Local real estate agents are best for such cases, as they:
Are knowledgeable in the area that you are interested in
Have networks that can help facilitate finding the best deals and ensuring the process goes smoothly
Are able to negotiate for you; and
Can help ease the technicalities of the transaction, including paperwork management
Working with a local real estate agent can also help you gain more satisfaction from the transaction. In a 2012 study published on the Journal of Housing Research, it was found that experienced agents, in particular, can positively influence a successful sale, compared to rookie agents.
When looking for your real estate agent, consider:
Experience in remote home buying. With virtual house tours becoming the new norm in real estate selling, it is important to find an agent that has done them before. This helps you make sure that they would know what to expect, how to prepare you for it, and what to do to guide you to the best home deal that fits your needs, your budget, and your personal preferences.
Availability. It is also crucial to make sure that you and your agent are available for what you need when it's time to conduct a house tour, submit requirements, or accomplish any other aspect of the process. Ask your prospective agent about their availability and match it with yours.
Specializes in target areas. Buying a home in Ashland, Oregon is best done with the help of an agent that knows Ashland like the back of their hand. Check the number of years that they have been working as a real estate agent in the area, look into the number of sales they have helped close, and verify that they can give you personalized guidance about the buying process by asking them questions.
Make a list: essentials vs. wants. You need to come in with a strong sense of knowing must-haves vs nice-to-haves; the former is a need, and the latter is a preference. Separate what you consider to be essential from what may be fixed or adjusted later. For instance, set your search to filter for important information, such as:
Type of home (single family, condo, etc)
Total number of rooms (bedrooms and bathrooms)
Nearby amenities
Ideal school or school district; and
Specific neighborhood
Similarly, if you have cosmetic preferences—such as the interior color of the house, the type of windows that it has, etc.—understand that these should come second to your bullet list of essentials. These things can be accommodated later, depending on your time and budget resources.
Determine how much home you can afford. Many people think that buying a condo or a house starts and ends with identifying the deal that you want and then closing it. But there's more to it than that. Even when you think that you have found the home that you'd like to buy for yourself or for your family, you need to think about whether you like everything that comes with that house. To do this, mind these suggestions.
Identify neighborhoods you'd like to live in. Knowing where you want to live is as important as finding the right home to move into. For example, if the house that you are eyeing is situated in a neighborhood that is, say, close to bars and you want your kids to be as far from such places as possible, then you should look for houses that may be a bit further from the city center. To find your ideal neighborhood:

Ask your real estate agent to give you the low-down on neighborhoods with listings that fit within your budget.
Use online resources. There are mapping tools and resources available online so that you can check nearby amenities and schools, as well as consider commute and other factors.

Check upkeep costs. Maintenance expenses are also a cost that you'd need to factor into your budget. If you don't want a lot of space to clean, then filter your search to listings that will be ideal for how much maintenance you are willing to do, such as a condo or a single-family home.
Ready your finances. Before you start your actual search, make sure that you have what you need to pitch your offer and hope for approval: your finances. Some of the most important things that you need to do to get that done and dusted include getting pre-approved for a mortgage loan, improving credit rating and debt-to-income ratio, creating a budget and sticking to it, and setting aside money for closing costs and emergencies.
Additionally, prepare the necessary documents and other requirements that you may need. Since it is an online house search, be sure to ask your agent for guidance on the paperwork that you will need to sign, scan and send, then prepare it accordingly.
Start your online home search. Now, you're ready to start searching. When finding your home, keep these tips in mind.
Narrow down the search to target areas. Moving to Ashland is different from moving to Jacksonville or any other area in Oregon. When searching, it is best to stay committed to a specific target area, rather than thinking that you'll be open to other cities, as well. This will help ease the selection process and ensure that you can make the most of your time. Also, limit your search to include only those that meet your requirements and your budget.
Go on virtual home tours. Virtual home tours have become the new normal way of conducting home searches, as in-person showings have been disrupted or, in some cases, flat out restricted. Such an opportunity will give you a personal look into the home that you are thinking of buying, and help you to come to an informed decision.

Additionally, the tours will allow you ask the sellers' agents or personally examine some key considerations, such as:

State of existing home components, such as roofing, yard, maintenance needs, etc.
How the listing compares to the actual property, and whether there are cosmetic imperfections that are not seen on the listed property online
Nearby amenities or entertainment opportunities, such as gyms, playgrounds, etc.

Make an offer. The next step is pitching in your offer for the listing. To do this, it is best to, first, find the right offer price. Some questions that you can think about, or ask your agent for help with, are as follows:

How flexible is the seller on his or her asking price?
How much do similar houses on the market sell for?
How close is the actual house to how it looks online?
How long has the house been on the market?

Additionally, make sure that your seller likes your price. To do this, you can:

Find out why the seller is putting the property on sale, and align your offer accordingly.
Remind them why choosing you is the best option for them; if your mortgage loan has been pre-approved, for instance, let them know.
Offer to pay for the house in cash or top the other bidders' price, if you can.

Close the sale. Finally, close the sale when you and the seller have come to a deal. At the moment, Oregon does not allow online notarization, but according to the Oregon Realtors, some title companies have opened up mobile notarized closings, where a notary comes to your house to have you sign the closing paperwork. Additionally, you can ask your agent to help you schedule an in-person appointment with a title company.
Your real estate agent should be your trusted partner in making all of these things possible. Representing both buyers and sellers, Marie Donovan and the rest of the team at the Ashland Home Real Estate have a reputation for running the best real estate firm in Southern Oregon since 1980.
Let Ashland Home Real Estate guide you toward your dream home in Ashland, Jacksonville, and the neighboring areas. Call us at +1.800.334.7499 or email us at info(at)ashland-homes(dotted)com.