First-Timer's Guide: Mount Ashland Ski Area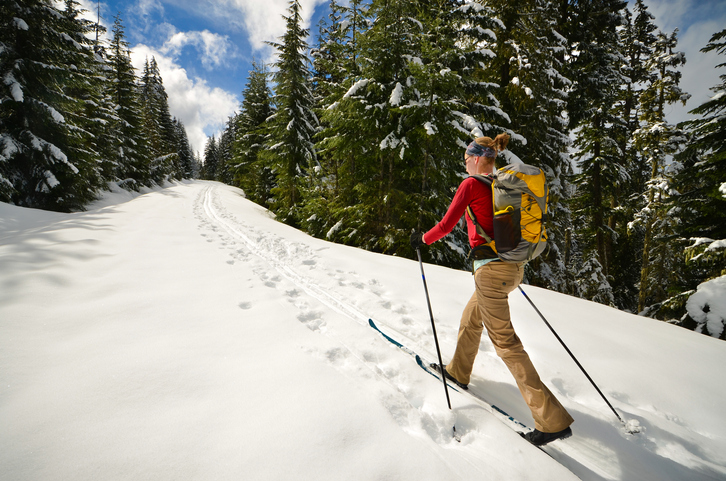 With 220 acres of terrain, 22 feet of annual snowfall, 23 runs and 5 lifts in service, Mount Ashland Ski Area is Southern Oregon's prime winter sports destination. You don't need to head all the way to Park City or Telluride to hit the slopes.

Mount Ashland Ski Area offers good value for money. You'll find a variety of slopes here, and the friendly, laidback vibe makes everyone will welcome. For après-ski activities, there's a charming mid-century ski lodge with a solid bar where you can recount the day's runs and just chill out.
Located about 20 miles from Downtown Ashland, Mount Ashland Ski Area's proximity is another reason why it's so popular. This place is so embedded within the local lifestyle that going up to ski has become a habit for most locals.
Are you eager to check out Mount Ashland Ski Area for the very first time? Use this guide to plan your ski trip accordingly.
Getting there
There are two ways to head up the ski area: by shuttle service and by private car.
For your convenience, there's a free snow bus shuttle service that can take you from Ashland Hills Hotel & Suites and up to the mountain. No reservation is required, but since there are only two 15-passenger buses making the round trips, make sure to be right on time. View the bus schedule here.
Downtown Ashland is only roughly 20 miles away from the ski area. You can easily drive your way up the mountain. Just take I-5, then take Exit 6, which would leave you up Mt. Ashland Ski Road. Driving can take anywhere between 20 to 35 minutes depending on the traffic and weather conditions. As an extra precaution, make sure to bring along tire chains to fit onto your wheels.
Up in the ski area, you can park your car for a small fee collected by the Oregon Sno-Park. You have the option to pay for an annual parking permit if you plan to make frequent trips up Mt. Ashland.
If you want to make sure that there's enough snow waiting for you at the mountain, click here to check out their live-streaming webcams from the Comer and Windsor lifts. You can also download Snowledge, Mt. Ashland's official app to get updates on current weather conditions right on your phone.
Winter Season
Winter season is, of course, the best time to hit the slopes. Here are a couple of things to note if you're visiting the ski area during this period.
Operating schedule
Mt. Ashland is usually open from Thursdays to Mondays and open every day during the winter break, from 9:00 AM through 4:00 PM. On days where twilight skiing is offered (usually Thursdays and Fridays), Mt. Ashland extends its hours to 9:00 PM.
Lift tickets and season passes
Mt. Ashland prides itself for being one of the most affordable ski areas in the country. Season passes start from $30 and are valid all throughout the season. You even get a four-day access at Diamond Peak Ski Resort, plus discounts at participating partners. Click here to purchase a season pass.

You can also opt to get a lift ticket instead. Prices start at $5 for kids ages 7 to 12 years and $7 for skiers ages 13 to 69 years. Children below 7 and seniors over 70 are free of charge. For the full list of ticket prices, click here.
Gear rental
If you don't have ski equipment yet or don't feel like bringing yours, renting equipment at Mt. Ashland is an option. Ski and snowboard rental for adults ages 13 years and above start at $4 while rates for kids ages 12 and below start at $4 as well.
If only need a certain type of ski or snowboard equipment, you can also rent items ala carte. Packages that include lift tickets, lessons, and equipment are also offered. Just make sure to show up in appropriate clothing.
You can view the full list of equipment rental and package rates here.
The terrain
There are 23 ski runs of varying difficulties in Mt. Ashland. Most of these runs, however, favor experienced skiers and snowboarders. Of the 23 trails in the ski area, only the Sonnet trail is designated for beginners. This one is a trail loop located near the ski lodge. The rest of the trails are intermediate and advanced runs.
If you want to experience these harder trails, take lessons. Mt. Ashland offers youth programs as well as private lessons for anyone who wishes to improve their ski level. Click here to read more about the skiing and snowboarding lessons offered at Mt. Ashland.
For local kids, there's the After School Program, in which Mt. Ashland partners with a select number of elementary and middle schools in Southern Oregon to makes lessons more affordable.
Amenities
Whether you're calling it a day or just taking a break from hitting another run, the ski lodge at Mount Ashland is a welcome shelter from the cold. You can recharge with great food as well as favorite local libations from the bar.
While you're at it, upload trip photos to your favorite social media channel using the lodge's high-speed Wi-Fi — all while keeping yourself warm at one of the four fireplaces in the lodge. If you want to commemorate your mountain experience, visit and browse through the Granite Cove shop for little trinkets and gear to take with you on the way back to Ashland city proper.
Summer season
While the Mount Ashland Ski Area is closed during the summer season, this shouldn't stop you from enjoying Mt. Ashland while the weather is warm. The ski area transforms into a hiking destination, with scenic views the Cascade Range's peaks, like Mt. Shasta and Mt. McLoughlin. Mt. Ashland can be a cool respite during summer, as the weather can easily be 20 degrees cooler up here than the valley below.
There are also a couple of events that take place in Mt. Ashland during the warmer months. There's the Mt. Ashland Hillclimb Bike Rice for mountain bikers. For trail runners, Mt. Ashland Hillclimb Run and Siskiyou Out Back will test your determination, endurance, and speed.
With such a variety of activities available even in the off-season, Mt. Ashland is likely to remain a go-to destination for first-timers and regulars alike.