Festivals and Local Events in Ashland, OR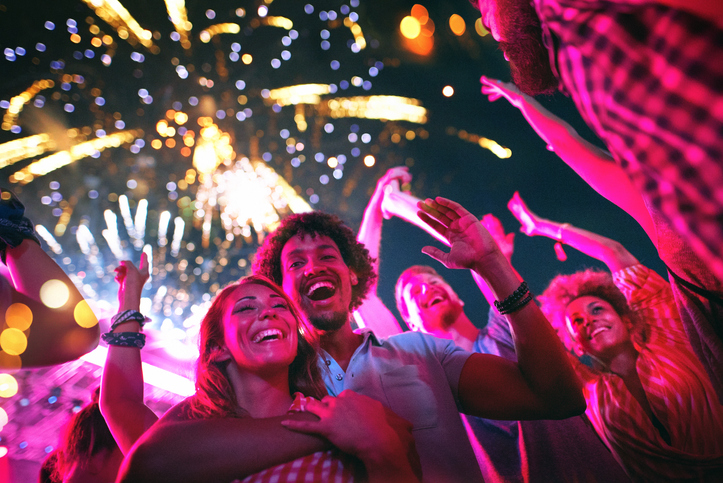 Some say that participating in local events is one way to experience a town or city. And in Ashland, you're given plenty of chances to do so. Set in the largely rural landscapes of Southern Oregon, the cultural center that is Ashland hosts a treasure trove of local events and festivals. These events attract hundreds of thousands of tourists to the city each year!
To help you experience the best of what Ashland has to offer, here are some of the city's most anticipated events.
Spring (March – May)
For the past 16 years, the Oregon Chocolate Festival has been heralding the start of spring, placing smiles on chocolate lovers' faces. Featuring over 30 local chocolatiers, it's the time to overindulge your sweet tooth.

The Oregon Chocolate Festival is a three-day event that offers plenty of chocolatey fun. This year, the lineup included several workshops with chocolate masters, a fun run, competitions, chef demos and, of course, the Spa Chocolate Cocktail Party.
Excited for the next annual chocolate festival? Click here to learn more about the upcoming 2020 festivities.
Every April, local filmmakers and members of the film industry at large flock to the city for the Ashland Independent Film Festival (AIFF). As the largest festival of its kind in Southern Oregon, it is an important resource and stage for filmmakers in the region.
The AIFF is usually held at a string of venues, including the Historic Ashland Armory and the Varsity Theatre. Aside from the screenings, you're also invited to meet participating filmmakers and other film lovers at companion events such as the Opening Night Bash and Awards Celebration.
Summer (June – August)
Are you dead set on testing the limits of your running abilities? Then the Mt. Ashland Hillclimb Run is the perfect avenue for you. The grueling 13.3-mile run with a total elevation gain of 5,600 feet, taking you and other runners through the scenic parts of Ashland, starting from verdant Lithia Park, winding through downtown, and going up, up, up to the Mount Ashland ski area.
Although it's usually held in the summer, runners are encouraged to dress accordingly (there might still be snow up there), train, and pack some snacks and hydration. All proceeds of the run−which has been successfully held 41 times as of 2019−go to the Ashland Woodlands & Trail Association, which preserves Ashland's trail network.
No Ashland experience is complete without joining the city's annual 4th of July celebrations. For over 100 years, the 4th of July Parade has been the highlight of the festivities, bringing people together to march through town. The parade is preceded by a morning fun run, then followed by jet flyovers.
Fall (September – November)
As the weather gets cooler and leaves slowly mirror the bright colors of a flame, Ashland showcases the best of its local cuisine during the four-day Ashland Culinary Festival. Held every November, the festival is a celebration of local food and drink, and the dedicated culinary professionals in the city.
There's never a dull moment during the Ashland Culinary Events. There are several events to attend, such as workshops, local cuisine samplings, and beer and wine tastings. The main event, however, is the Top Chef Competition, where 12 local chefs compete to be crowned as Ashland's top chef. There is also a mixology competition for those skilled in crafting one-of-a-kind drinks and cocktails.
Up-and-coming playwrights from all over the world are given an opportunity to shine every October, during the Ashland New Plays Festival. First held in 1993, this fall festival is a culmination of other ANFP events that happened earlier in the year. Four winning playwrights are selected from a talented, international pool to showcase their works. It's a great avenue to meet budding talent!
Winter (December – February)
Festival of Lights

Feel the holiday spirit in Ashland as the last months of the year roll in. The season is notable for annual Festival of Lights, which starts sometime late November and continues on through early January.

See Ashland bathed in fairy lights during this holiday affair. Lithia Way and Ashland Street, in particular, shine during this season with their winter banners, lanterns, and other Christmas decorations.


This theatre festival-cum-season is perhaps the single most popular cultural event in Ashland, with a reputation that stretches beyond Oregon.

The Oregon Shakespeare Festival (OSF) opens its annual season sometime in February or March and continues for the rest of the year until its closing in October or November. Throughout a year's run, the OSF will attract an attendance of about 400,000 people, making it a very important part of Ashland's cultural and touristic health.
True to its name, the festival includes modern and experimental theater reproductions of classic Shakespearean tragedies and comedies like Hamlet and Much Ado About Nothing. It's not purely the Bard's theatre, however. Since they've expanded, OSF now also features Broadway musicals and brand-new plays.

There are a total of four venues for the festival, but the most memorable is the outdoor Allen Elizabethan Theater in Lithia Park.
February is for Ashland Culinary Month, which celebrates Ashland's impressive and dynamic culinary scene. Ashland Restaurant Week, in line with the whole month's theme, is a grand showcase of Southern Oregon's bests — wines, cuisine, ingredients, chefs, and of course restaurants.
During Ashland's Restaurant Week, locals and tourists can wine and dine on special deals at participating local restaurants. But the fun for food lovers doesn't end there. Past Restaurant Week, you can still attend culinary workshops, live music and culinary events, tasting tours, and other Culinary Month offerings.
These are just some of Ashland's string of local events


Do you want to enjoy Ashland, Oregon in all its seasons? Get in touch with Ashland Homes Real Estate today at 800.334.7499 / 541.482.0044, or send an email to info(at)ashland-homes(dotted)com. You can also browse the latest property listings and take a peek at Ashland real estate and homes for sale.