Exploring Jacksonville Forest Park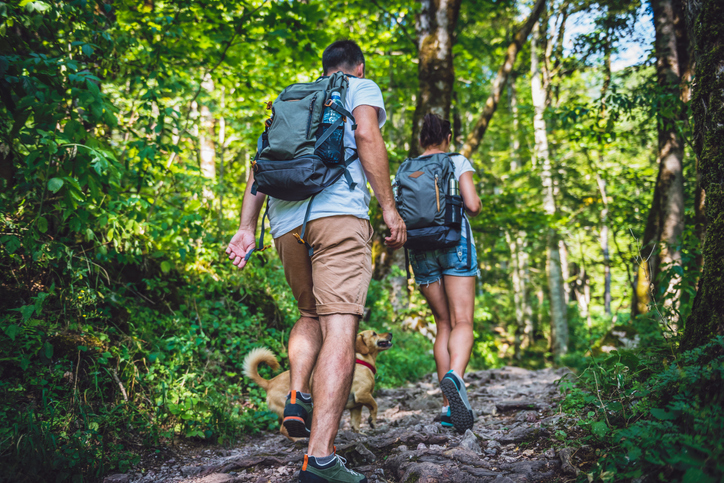 Hailed as the Hiking Capital of Southern Oregon, Jacksonville is a historic city that's home to numerous hiking, biking, and multi-use trails. Many of these trails can be found in Jacksonville Forest Park, a 1,100-acre park just two miles away from the city center.
About the park
Jacksonville Forest Park was once used as the city's watershed for more than fifty years. With help from the mountain bikers in the Rogue Valley Mountain Bike Association and volunteers from the Jacksonville Woodlands Association, the Jacksonville City Parks Department turned it into the spectacular park that it is today.
Jacksonville Forest Park is home to around 30 hiking, biking, and multi-use trails that range from easy to moderate and challenging. These trails will bring you steep terrains, cool creek beds, lush foliage, tumbling waterfalls, and many more.
The hiking trails are reserved for hikers only while the park's multi-use trails can be used by both hikers and bikers. As for the biking trails, hikers are allowed to use the trails parallel to the park's designated biking trails.
Hiking
The trails in Jacksonville Forest Park are perfect for hikers of all levels. The park has a variety of measured trail loops (of different distances) that start and finish in the same parking spot. These loops are easy to find since they are marked by colored diamonds.
Here are the top hiking spots in the park:
Twin Peaks Trail – One of the most popular hiking spots in Jacksonville Forest Park, the Twin Peaks Trail is the perfect trail for an easy hike. The 1.1-mile-long trail will take you beyond the Cascade Crest Vista Shelter, the Twin Peaks Saddle, and the Atsahu Trail junction.
Halls of Manzanita – Named after the evergreen shrubs and tree species in Jacksonville Forest Park, the Halls of Manzanita is a relatively easy climb with plenty of shade. Hikers are also treated to sweeping views of the valley. The trail then descends to the Naversen Family Trail.
Naversen Family Trail – The Naversen Family Trail is a 1.2-mile loop that offers scenic views of the surrounding canyons. Hikers will also find a small shed with a bench along the trail. The Naversen Family trail can be accessed from the Ridgeview Trail or from the parking area P-3.
Cantrall Creek Trail – Another popular trail in Jacksonville Forest Park is the Cantrall Creek Trail. This well-maintained, 1.7-mile trail is easy to climb and often used by hikers, walkers, and trail runners. Dogs are also allowed on the trail as long as they are on a leash. The Cantrall Creek Trail is accessible from parking area P-4.
Canyon Falls Trail – Home to a number of small, tumbling waterfalls, the Canyon Falls Trail is a must-visit. Both upper and lower segments offer spectacular waterfall views.
Grotto Trail – Surrounded by winding trees and lush foliage, the Grotto Trail looks like it came straight out of a fairytale. The trail's main attraction is a deep rock cleft that can be found through a narrow side trail.
Rail Trail – The Rail Trail is an easy and enjoyable trail that's good for all skill levels, making it the perfect hike for the whole family. The trail starts at parking area P-1 and ends at the Norling Trail junction on Jackson Creek.
Other hiking trails:
Arrowhead Pass
Atsahu Trail
Boulder Trail
Canyon Vista Trail
Claimjumper Trail
Jackson Creek Nature Trail
Jackson Ridges Trail
Knobcone Pine
Legburner Trail
Madrone Grove Trail
Norling Trail
Ol' Miners' Trail
Owl Hoot Trail
Pipsissewa
Pondersosa Snag Trail
Rattlesnake Gulch
Ridgeview Trail
Shade Creek
Siskiyou
Sofie's Trail
Steep Canyon Rangers Trail
Biking
With its steep terrain and numerous single track trails, it's no wonder why many mountain bikers choose to explore the many biking trails that the park offers. Out of the 30-plus trails in Jacksonville Forest Park, around 20 can be used for biking.
Here are the top biking trails:
Granite – Known for being one of the more difficult biking trails in Jacksonville Forest Park, the Granite trail is 1.2 kilometers long from point to point. The trail's single track feature and speedy downhill area along Cantrall Creek Canyon is a favorite among mountain bikers. Brace yourself for the trail's beginning climb — it can get pretty steep!
Jackson Creek Bike Trail – Adjacent to the Jackson Creek Nature Trail, the Jackson Creek Bike Trail is an old path that's only open to non-motorized vehicles. The direction of the Jackson Creek Bike Trail is primarily downhill.
Twister – With an intermediate difficulty level, the Twister bike trail is a narrow path that weaves in and out of the trees. Many find this trail to be short and fun.
For more information about the hiking and biking trails, head to the nearest Forest Park kiosk. Maps there will tell you everything you need to know about the trail routes and the areas that you can park in.
You can also download the Forest Park Trail System Map on your phone via Avenza Maps or refer to the trail map here.
Getting to Jacksonville Forest Park
Jacksonville Forest Park is accessible via Highway 238. Take the west road off the highway, head north on east California Street, and turn left on Reservoir Road. Your destination will be on the right. Entrance to the park is free of charge. The park has seven designated parking areas, with space for around 5 to 12 cars each.
Explore the historic city of Jacksonville, Oregon
Learn more about Jacksonville, Oregon and all that it has to offer by getting in touch with Ashland Homes Real Estate, your Southern Oregon real estate experts. Give them a call today at 1.541.482.0044 or send an email to info(at)ashlandhomes(dotted)com.
Our team of full time, highly dedicated, and professional brokers will help you in your real estate journey every step of the way. All of our agents have in-depth local knowledge and know the Southern Oregon real estate market by heart.
We work collaboratively with our clients and represent them with the kind of properties that suit their needs. Our firm specializes in a variety of real estate such as residential, rural, land, commercial, income, exchange properties, and more.