Explore the best hiking spots in Ashland, Oregon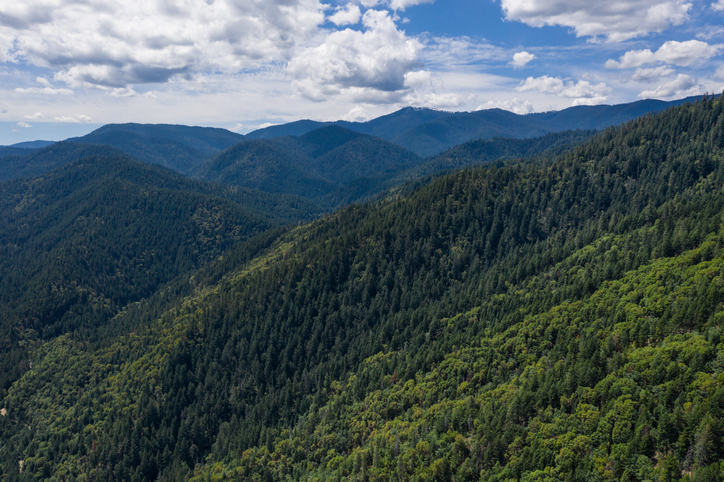 Ashland offers some of Southern Oregon's best and most beautiful hiking destinations. With the Rogue River-Siskiyou National Forest and the Cascade Range both so close to town, it's easy for nature lovers to drink in fantastic views and explore incredible trails.
Whether you're looking for a simple hike with scenic forest views or something more challenging to test your skills, there's a plethora of trails for you to choose from in the greater Ashland area.
Explore the great outdoors by taking a look at the best hiking trails in Ashland, Oregon.
1. Grizzly Peak Loop Trail
Easily accessible, the 4.8-mile Grizzly Peak Loop Trail is a moderate uphill hike that will take you up 700 feet above sea level. The trail is dog-friendly as well, so you're free to bring your pooch along. Just remember to bring some snacks and water.
The Grizzly Peak Loop Trail offers the perfect combination of open paths and forested areas. The first part is a steady uphill climb, which can be challenging to novice hikers, but it gradually flattens out for the rest of the trail.

The trail has two great viewpoints. First is the Burn Viewpoint, where you can see the remains of the 2002 East Antelope Fire. Meanwhile, the second viewpoint grants you picturesque city and mountain views. On a clear day, you can enjoy a panoramic view of the Cascade Mountains, Mount Shasta, Mount McLoughlin, Pilot Rock, and parts of the Rouge Valley.
The best time to experience Grizzly Peak is during the late spring or summer, when the meadows teem with wildflower blooms. You can also see a wide variety of local flora and fauna all throughout the trail any time of year. 
2. Mount Ashland
Aside from being a great skiing destination in the winter, Mount Ashland offers incredible hiking opportunities. Two popular trails are the Mount Ashland Hiking Trail and Mount Ashland Meadows.
The Mount Ashland Hiking Trail is a moderate to difficult 5.1-mile traverse with a total elevation of 1,374 feet. Up top, incredible views of the Three Sisters, Mount McLoughlin, Mount Thielsen, ad Grizzly Peak will greet you. The wide trails make it easy for groups to hike up to the summit. Dogs are also allowed on the trail as long as they're on a leash. The best times to take this trail is from March to October so you can see the beautiful wildflowers.
Meanwhile, Mount Ashland Meadows is a 6.8-mile  trail that loops around gorgeous wildflower meadows. This route is found along the Pacific Crest Trail and features views of Mount Shasta and rich forests. It's pretty level but slightly longer than the Ashland Hiking Trail.
 3. Lithia Park
Only a stone throw's away from Ashland's main plaza, Lithia Park is one of the most convenient hiking destinations in the area. With an easy to moderate 2.1-mile hike and a total elevation of 137 feet, it's a great spot for easy hikes to be enjoyed any time of the year.
There are also trails that start from the plaza that run south along the Ashland Creek, which flows into ponds and waterfalls.
If you go further south following the creek, you'll find the Granite Street Reservoir. It's the perfect place to go for a dip and cool off in the hot summer months.
4. Grouse Gap Trail
Ideal for both beginners and more advanced hikers, the Grouse Gap Trail is a 2.3-mile loop route with a total elevation gain of 496 feet. It's another hiking destination to be enjoyed all year round. At its highest point, you can enjoy beautiful views of Mount Ashland, Mount Shasta, and the Rogue River-Siskiyou National Forest. You can also bring your dog along for the hike as long as they're on a leash.

Take the trail from spring to summer and see the meadows carpeted in wildflowers, all in bloom. Meanwhile, the colder months transform Grouse Gap into the perfect grounds for backcountry skiing and snowshoeing. If you're going to hike here during the winter months, make sure to pack the proper gear to help you handle the snowy terrain.
The Grouse Gap Trail also connects to more challenging trails such as the Summit Trail, Grouse Creek Trail, and the world-famous Pacific Crest Trail, which stretches all the way from Mexico to Canada. This makes Grouse Gap an excellent jump-off point for multi-day hikes. 
5. Wagner Butte Trail
For a more remote and challenging hike, the Wagner Butte Trail is for you. This 9.4-mile trail takes you high at 2,352 feet above sea level. It's a major calorie burn and should only be traversed by serious and experienced hikers. The beginning of the hike is the most difficult, with the first three miles being a steep uphill hike that will literally take your breath away.
Don't worry, all your hard work going through the trail will definitely be worth it. At the peak, you will be rewarded with some of the best views of Mount Ashland, Ashland, Medford, Grizzly Peak, and the neighboring areas. The best time to visit the trail is from March until October and pack plenty of water and trail food.
6. White Rabbit Trail
The White Rabbit Trail is a 2.4-mile loop trail with an elevation of 674 feet above sea level. It's a scenic and relatively easy hike. A lot of people visit this trail due to its accessibility− it connects to other trails in the Ashland Watershed trail network such as Alice in Wonderland, Caterpillar Trail, Toothpick Trail, and more. So if you want to go on a longer hike, you can easily do so.
The rewards for taking this trail include beautiful vistas of Rogue Valley. If you start the trail at the FS Road 2060, you'll pass some gorgeous granite boulders on your way up. 
7. Ashland Fairy Ponds
One of Ashland's hidden gems, Ashland Fairy Ponds are straight out of a fairytale. Located near Lithia Park, this short trail was named after the crystal-clear shallow ponds found along the trail. Further down are  granite creek beds covered in beautiful foliage. 

Want to learn more about what Ashland, Oregon has to offer? Get in touch with Ashland Homes Real Estate today at 800.334.7499 or 541.482.0044. You can also send an email to info@ashland-homes.com.