Advantages of Having a Smart Home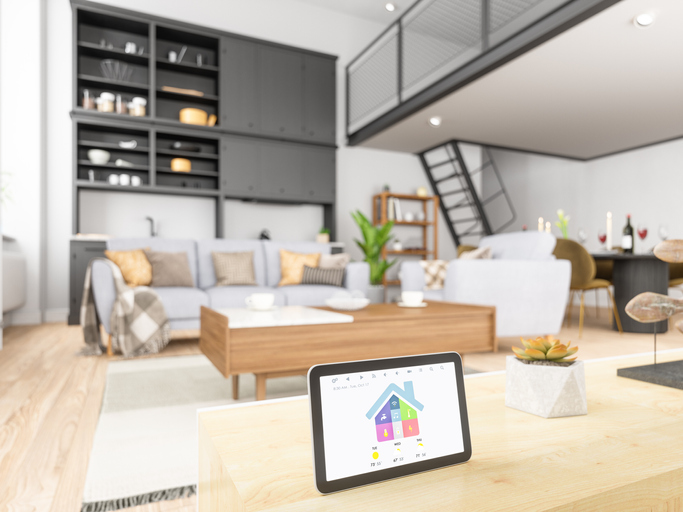 Technology plays a huge role in how we live nowadays. Smart home technology, for one, provides homeowners and their families with a higher quality of life due to its network of connected appliances and devices.
But first, what is a smart home?
A smart home is a house that controls or automates different house functions through the latest electronic technologies. These functions, whether it's the lighting, the temperature, or the security system, is controlled by a smartphone app or through voice activation. For easier management and communication, internet-connected devices are typically used for smart homes.
The benefits of having a smart home are plenty, from safety to convenience. Here are some of the perks of home automation:
A smart home provides safety and security
A higher level of safety and security is a major advantage of owning a smart home. A smart home's security system allows you to keep track of whoever enters and exits the home, giving you peace of mind and assurance that your family members and your property are kept safe.
Having a smart home is especially useful when you're away at work or on vacation. A smart home also helps you keep an eye on your kids when you leave the house. Through your home security system, you can monitor your house and check up on it every now and then. It can also detect motion during specific times of the day or night.
The security system of a smart home comes with a variety of home automation features such as smart doorbells, locks, cameras, thermostats, lights, and smoke alarms.
Automated lighting, for one, can deter unwanted guests by making it look like you're home even if you are not. These devices also typically have motion sensors that detect when there is activity inside or outside your home. Another device is a smart doorbell. Quick and easy to install, this device has a small camera placed close to the doorbell button. Once someone approaches the door or rings the bell, you'll be notified on your phone and given a real-time picture or video of who is standing on the other side.
A smart home is energy efficient
Forgetting to close the lights or to switch off the TV when they're not being used happens more often than you think. This leads to higher energy waste and a higher electric bill.
This is where having a smart home comes in handy. Since you have control over the appliances in your home, you can easily switch them off through your smartphone app or through voice activation. Some smart home features also have automatic power down or power off modes for appliances and devices that are inactive. Other smart home devices can also detect when no one's home and adjust the temperature accordingly.
A few of the smart devices that can have these features are air conditioners, cooking appliances, televisions, computers, and gaming consoles.
A smart home gives you control
With a smart home, you are able to control the different home functions and the amount of energy that is being used for these appliances and devices. A smart home lets you manage these devices and appliances regardless of where you are.
Smart home systems and devices are usually controlled through a single apple or through several apps. It all depends on the type of smart home device and its compatibility. There are also some smart home apps that allow you to sync different smart products brands in that one app. Through these apps, you can manage all your smart home devices in one place: your phone.
A smart home is convenient
Smart homes are convenient because they allow you access and control over the different home functions at the touch of a button no matter where you are. Forgot to turn off the air conditioner when you left the house? You can close it through the smart home app on your phone. Need to check who's at the door but too busy to go downstairs? A smart doorbell will show you who's standing on the other side of your front door.
Automated door locks and smart locks, in particular, can detect when a door is closing and automatically locks it. Aside from the increased security, it also increases convenience since you don't have to double-check that the door has really been locked. Doors with smart locks can also be unlocked through an app.
Another convenient advantage of a smart home is being able to adjust the temperature from your location. Using your smart home app, you can easily set your thermostat to the desired temperature from the convenience of your office or from wherever you're coming from. That way, your home won't be too hot or too cold when you get home.
A smart home offers comfort
And lastly, a smart home makes your life at home much easier. Through these many different features, you can easily lock the doors, switch off the lights, and adjust the temperature settings. You can play music or your favorite TV shows by voice command.
Smart homes also offer peace of mind and comfort by providing you with a better sense of security. With a smart home, you don't need to keep worrying if you locked the door or switched off the TV once you've left the house.
Find Southern Oregon homes for sale
Explore your housing options in Southern Oregon by getting in touch with Ashland Homes Real Estate, one of the top firms in Southern Oregon, at 1.541.482.0044 or info(at)ashlandhomes(dotted)com.
Our team of full time, highly dedicated, and professional brokers will help you in your real estate journey every step of the way. All of our agents have in depth local knowledge and know the Southern Oregon real estate market by heart.
We work collaboratively with our clients and represent them with the kind of properties that suit their needs. Our firm specializes in a variety of real estate such as residential, rural, land, commercial, income, exchange properties, and more.