9 Tips for Better Home Security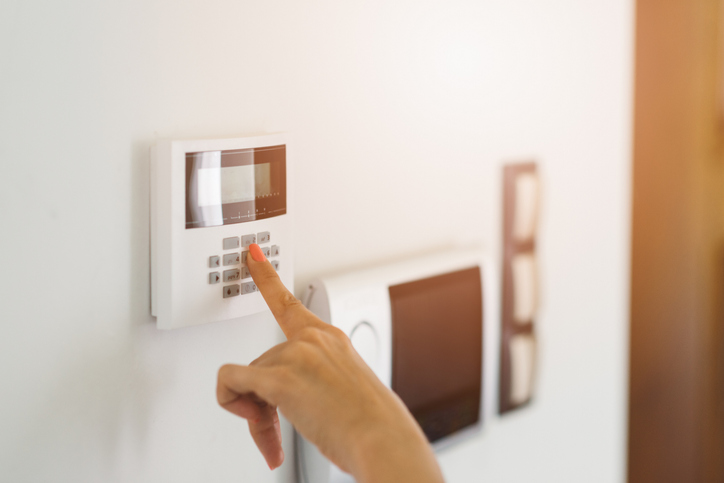 As a homeowner, securing and protecting your home is a top priority. It's important to have multiple layers of protection in order to better deter unwanted visitors. While you don't need to do all of these things at once, it's best to keep them in mind so that you can prepare in advance.
Keep plants and shrubs below window level

Landscaping is not just for boosting your home's curb appeal. Since your yard is the first line of defense against unwanted visitors, it can also be used to protect your property.

The easiest way to landscape your home for safety is by keeping plants and shrubs below window level. When your bushes are too high and too thick, it gives intruders a place to hide as they trespass on your property. That's why it's important to trim your bushes and hedges regularly and keep them no taller than three feet. With your trimmed plants and shrubs, neighbors can also see your yard and alert you if they spot anything suspicious.

Since you're already landscaping your home for safety, add a few thorny plants as well. Plants such as the Washington hawthorn (crataegus phaenopyrum), pyracantha, and the Oregon grape holly (mahonia aquifolium) are perfect for protecting your home.

Install the right outdoor lighting

Good outdoor lighting is a must when it comes to protecting your home. Homes that are well-lit on the outside can discourage intruders from stepping onto your property.

There are different types of outdoor lighting to choose from such as spotlights, flood lights, motion sensor lights, landscape path lights, and LED lights. Motion sensor lights, for instance, are most ideal because they automatically illuminate the area when a nearby presence or movement is detected.

However, you don't need to light up your whole house — this can draw unwanted attention. Stick to places such as the porch and certain areas in your backyard.

Set up a home security system

A home security system is a network of devices that all connects to a control panel. It typically includes interior and exterior motion sensors, door and window sensors, alarms, and security cameras. There are a variety of home security systems to choose from, ranging from DIY systems to state-of-the-art ones with home automation features.

Aside from protecting you and your property from unwanted visitors, a home security system also alerts you when it senses a fire or buildup of carbon monoxide.

Install security cameras

One important component of a home security system is security cameras. These devices can protect your home and your valuables by providing constant video surveillance. Smart security cameras, in particular, can send an alert on your phone when they detect unusual activity.

Secure your Wi-Fi network

Intruders can also access your personal and financial information through your Wi-Fi network — and they don't have to be inside your home to gain access. Since Wi-Fi signals can pass through walls, others can connect to your network even when they're on your street.

There are several ways to secure your Wi-Fi network. These include using a stronger encryption, a secure WPA (Wi-Fi Protected Access) password, and a firewall. It also helps to hide your network name so that it can't be found easily.

Lock the doors and windows at night

Forgetting to lock the doors (especially the front door!) and the windows at night happens more often than you think. Since the front door and windows are the most common entry points for home invaders, these areas are the ones that you should check up on the most.

Locked doors and windows ensure that no intruders enter your home. If you need a daily reminder to lock the doors and windows at night, set a reminder on your phone or leave a note in an area that you often pass.

Make sure door frames are secure

Secure and sturdy door frames can make a world of difference when it comes to protecting your property. Breaking or removing the front door is one of the most common things intruders do when they try to get into your home.

Check the door frame of your front and back doors and make sure that it is properly constructed. Your door frame should have a door head, a door jamb, and a door stop. Examine your door hinges as well. Doors with outside hinges leaves the hinge pins exposed, which can be easily removed.

For extra security, add a deadbolt or a strike plate.

Keep valuables out of sight

Leaving your valuables out in the open and in plain sight also attracts unwanted attention. Whether it's by the window, porch, backyard, or garage, intruders can easily see what you have inside. To protect your valuables, always keep them away from these areas and store them properly.

Get to know your neighbors

Your neighbors are one of your best bets when it comes to protecting your home. They can keep a watchful eye on your property when you're gone, and they can alert you if they notice any unusual activity.

Introduce yourself and join neighborhood chat groups or social media groups. As you get acquainted with your neighbors, ask if they can keep an eye on your home when you're not in the house and vice versa.
Work with the best Southern Oregon agents
For more homeownership and real estate advice, reach out to the team at Ashland Homes Real Estate anytime. Our years of experience in the real estate industry have led us to become experts in our field. Feel free to contact us at 1.541.482.0044 or info(at)ashlandhomes(dotted)com.
Our team of full time, highly dedicated, and professional brokers will help you in your real estate journey every step of the way. All of our agents have in depth local knowledge and know the Southern Oregon real estate market by heart.
We work collaboratively with our clients and represent them with the kind of properties that suit their needs. Our firm specializes in a variety of real estate such as residential, rural, land, commercial, income, exchange properties, and more.