8 ways to increase the value of your home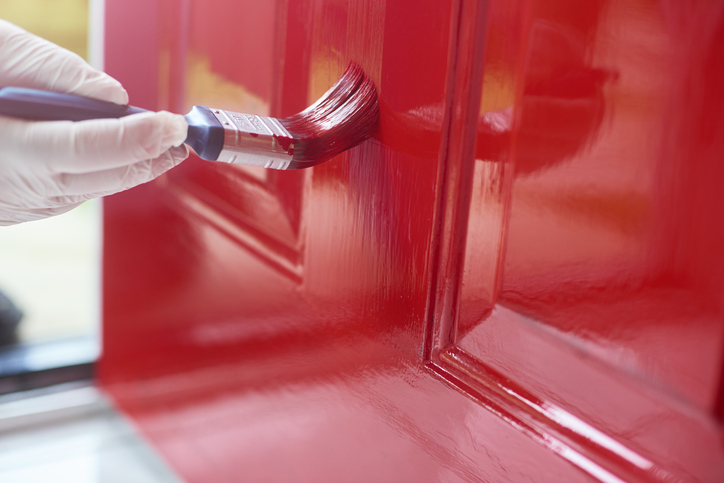 Boosting your home's value doesn't have to break the bank. Here are 8 (mostly) affordable home improvement projects you can do to help improve your home's value before you put it on the market:
1. Apply a fresh coat of paint
The quickest and easiest way to increase the value of your home? Give your walls, cabinets, drawers, or other interiors an instant makeover with a fresh coat of paint. Not only will your interiors look newer and cleaner, it will also transform the look and feel of your home.
When picking paint colors, stick to neutral tones like gray, gray-brown, dusty blue, mauve, beige, ivory, and taupe. Bold colors or large-scale patterns tend to distract. Neutral colors make it easier for future buyers to envision themselves living in your home.
2. Replace knobs, pulls, and handles
Even the smallest fixes can make a huge difference. In this case, it's the hardware in your home such as doorknobs, cabinet and drawer knobs, pulls, and handles. Replacing old-looking or outdated hardware with newer ones can liven up the a piece of furniture — an effect that extends to the room it's in.
When searching for the right hardware replacements, consider the usability, function, and design. How often will you be using that particular drawer, cabinet, or door? Will that particular hardware style suit the look of the room? How many knobs, pulls, or handles do you need?
3. Update your light fixtures
Lighting and light fixtures also have a significant impact on the overall appeal of a space, which in turn affects the perceived value of your home. The right lighting fixtures can help set the mood for a particular space, make a room appear larger, draw the eye to notable details, and more.
There are several types of lighting to consider: accent, ambient, decorative, overhead, and task lighting. Each one has its own purpose, from highlighting specific features in a room to illuminating the entire space. Consider going for layered lighting — interior design experts advise using a combination of task, ambient, and accent lighting in a space.
Also, don't limit yourself to inside the home. Having proper outdoor lighting helps showcase your back/front yard and its features.
4. Upgrade your kitchen appliances
The appliances you have in your kitchen also play a part in boosting your home's value. Modern, stylish, and energy-efficient appliances are definitely more appealing to buyers than out-of-date ones. These newer appliances will also help justify the higher list price when it comes to selling your home.
Inspect your kitchen and evaluate large appliances such as the refrigerator, stove, and dishwasher. If you think replacements are in order, consider not just the function of the appliance, but its look as well. While they don't necessarily need to match in terms of brand, model, or style, just make sure that the color complements the rest of the kitchen's aesthetic.
5. Install crown molding
Crown molding is a fast, affordable upgrade that can immediately elevate a room's appearance and give it a more elegant feel. When applied correctly, it can also make the ceiling appear higher.
The crown molding and the size that you pick should complement the overall style of your home. Crown molding with simple and clean lines, for example, goes well with modern interiors. And while crown molding can be challenging to install yourself, if you're up to DIY-ing all you need are a few simple cutting tools, the right guide to follow, and plenty of patience. Otherwise, it's best to have a professional to install it for you.
6. Boost curb appeal
Landscaping plays a huge role in increasing your home's curb appeal. According to HomeLight, a well-landscaped home can boost home values by 1% to 10%.
One way to improve your landscaping is by maintaining a lush, green lawn. This can be achieved by using native plants (they require less maintenance than non-native ones), fertilizing with organic and synthetic fertilizers to stimulate soil life, and letting your grass grow tall. And if you still can, try planting baby trees as soon as possible. Once they grow and mature, they will help increase your property's value even more.
7. Upgrade your front door
Another way to boost your home's curb appeal is by upgrading your front door. Since it is one of the first things a potential buyer will see, it's important to make it stand out and look inviting. Consider painting your front door in a brighter or bolder color that still complements the rest of your home's exterior design.
You can also replace your current front door with a style that fits your home's architectural design better. There are plenty to choose from, including traditional, Craftsman, modern, and rustic.
8. Improve your home's efficiency
Many buyers nowadays look for energy-efficient homes. They generate lower electricity bills and they make the home more comfortable in terms of temperature, humidity, and air movement.
Start with taking a look at your existing windows. According to the Department of Energy, windows are the main factor when it comes to heat gain and heat loss. To make your existing windows more energy-efficient, find any gaps or leaks and apply caulk to the frame to seal. You can also apply window film to reduce the effects of heat loss and gain.
You will also want to check for air leaks throughout the house and add or improve your insulation.
List your home with Ashland Homes Real Estate
The team at Ashland Homes Real Estate looks forward to helping sell your home quickly and for top dollar. Feel free to call us today at 1.541.482.0044 or send an email to info(at)ashlandhomes(dotted)com.
Our team of full time, highly dedicated, and professional brokers will help you in your real estate journey every step of the way. All of our agents have in-depth local knowledge and know the Southern Oregon real estate market by heart.
We work collaboratively with our clients and always bear their needs and goals in mind. Our firm specializes in a wide range of real estate including residential, commercial, rural, land, income, exchange properties, and more.