Carlene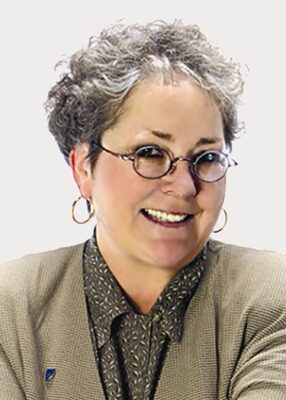 Carlene Hester, ABR, CRS, GRI
Principal Broker
License : 810604064
541.482.0044 Ext. 104
541.944.0088
Fax : 541.482.0046
Licensed in Oregon for 36 years now, Carlene is dedicated to excellence in client service to both buyers and sellers. Specializing in residential sales and bed & breakfast properties, she is known for her integrity.  Her background before real estate was in the legal field and court system, giving her a fine appreciation for attention to detail-much needed in today's ever-changing real estate market.
Carlene holds the Realtor designations of Certified Residential Specialist (CRS), Accredited Buyer's Representative (ABR), Graduate Realtors Institute (GRI) and holds the At Home with Diversity certificate.  Having been extremely active in both the local and state Realtor community for many years, she has been recognized with many honors:  Realtor Image Award, Public Service Award, Distinguished Service Award and was twice named as Realtor of the Year.
Leisure activities for Carlene include downhill skiing, decorating, haunting antique and gourmet shops, international travel and cooking/candy making.  Her specialty is her holiday time "not-quite-yet-world-famous-shortbread".
Client Testimonials:
"With Carlene's assistance, Iwas able to sell my house within six weeks of putting it on the market…at very close to the asking price.  Carlene helped insure that the house was fully ready for listing; was thorough in researching the comps; attentive to all the contractual details; extremely helpful with several challenging issues complicating the closing; and was always available for a phone call, text message, or quick conference.  Throughout the process her professionalism, sense of humor, and competence was evident.  Carlene's experience, communication skills, accessibility, and knowledge of the local market make me confident in recommending her to anyone wanting to sell their home."
"Carlene also represented me in the purchase of my new home.  Carlene structured a contract, when there was nothing more than an empty lot, which addressed many unknowns and ambiguities.  The entire process went very smoothly, thanks to Carlene's incomparable expertise."
"Carlene was recommended to us by a B&B owner and we were so pleased with her professionalism and experience.  She listened, keyed in on our specifics very quickly and didn't waste any of our time looking at property that didn't "fit."  When it came to making an offer, countering and financing, everything went very smoothly.  She was an excellent advocate for us."
"Carlene has represented me in the purchase of my home, and in the sale of two investment properties.  She has been an excellent representative,thorough, professional, sensible,always available when needed, and a steady hand during a difficult time in the real estate market.  I would not hesitate to recommend her to anyone looking to buy or sell a home!"
"We were fortunate to have Carlene as our Realtor in buying two houses in Ashland, Oregon.  In both cases we were always impressed by her professionalism and customer service.  We have always recommended her to others who were also looking to buy a home and they have all found her to be most impressive.  She is very diligent in reviewing all aspects involved in a real estate deal and she is always cheerfully available when we need her assistance.  She has held just about every important position within the real estate community and has been recognized with many awards for her work and commitment to the real estate profession."
"Carlene stays on top of the paperwork so you can focus on the move.  She is very knowledgeable about the process, the law and the forms.  Carlene assisted in coordinating the acquisition of our new house and the sale of our "old" house.  The closing dates of the two sales were within a week."
"Carlene helped us find a wonderful home in Ashland.  She was terrific to work with, listened to what we were interested in and was very helpful during the inevitable snags that pop up in any real estate transaction.  We were searching for a home with a large lot under $400k, which was not an easy request, but Carlene found us lots of great options to look at.  There  were all sorts of wrinkles along the way – we were buying from outside the area, we decided on a manufactured home which was an issue with our financing, the seller's agent changed towards the end of the transaction – and Carlene handled them all, answered all of our questions, and kept a great sense of humor.  We highly recommend Carlene as an agent."
"As first-time buyers, Carlene helped us find just the home we were looking for!  We looked for several weeks before finding something the whole family agreed on.  She was knowledgeable of the area, schools, taxes and the neighborhood.  We will absolutely be contacting Carlene when we are ready to purchase our next home."
"Carlene is the ultimate professional Realtor on all fronts.  From lining up showings to making the offer, counter offer, drafting contingencies and lining up inspectors, Carlene worked diligently on our behalf while we were relocating from the Midwest.  She ensured that we were informed and aware at every tum of events (and there are many in real estate).  We could not have done this without her.  I would recommend her to anyone looking for a home or selling a home in and around Ashland."
"We have worked with Carlene since 2007 when she was able to sell our 1888 Victorian B&B.  More recently she found us our current home, which we moved into in 2013 and sold our smaller townhome afterwards.  We have always been able to achieve our goals in selling and buying homes with Carlene. She is very efficient, cordial and knowledgeable of real estate in our area."
"Two purchases and two sales with Carlene and I wouldn't consider working with anyone else.  Patient, professional, thorough… all the superlatives apply.  One of those sales had a very complex component which might have taxed the skills of some Realtors, but Carlene navigated it easily and with considerable expertise.  Between those purchases and sales, when I needed to find skilled people for repairs and maintenance her willingness to help was unchanged even though there was no direct benefit for her.  I'm happy to give her my highest recommendation."